Veteran Lebanese journalist Ghassan Tueni dies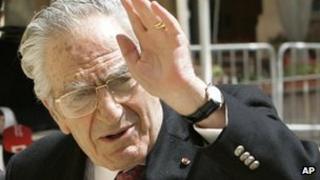 The Lebanese journalist and politician Ghassan Tueni has died aged 86.
Tueni, who was honorary president of the newspaper al-Nahar, had been receiving treatment at the American University of Beirut hospital.
He succeed his father as al-Nahar's editor-in-chief and publisher, serving from 1948 to 1999, and 2003 onwards.
Tueni also served several terms in parliament and as Lebanon's permanent representative to the UN between 1977 and 1982, at the peak of the civil war.
He is remembered for having told a meeting of the UN Security Council as he pushed for Resolution 425, which called for the withdrawal of Israeli troops: "Let my people live!"
His son Gebran, who was also a politician and journalist and who was a vocal critic of Syria's domination of Lebanon, was killed in a car bomb attack in 2005, only months after the assassination of Rafik Hariri.
Ghassan Tueni's former brother-in-law, Marwan Hamadeh, a former Lebanese telecommunications minister, said he was "one of the biggest champions of freedom of the press in Lebanon and the Arab world".
"He turned al-Nahar into a major independent newspaper in the Arab world at a time when no one dared outside Lebanon to write a word that did not glorify the leaders and autocrats of the region," Mr Hamadeh told the AFP news agency.
Prime Minister Najib Mikati said in a statement: "With the loss of Ghassan Tueni, Lebanon has lost one of its authentic national symbols."
Al-Nahar was founded by Tueni's father, Gebran, in 1933.