Little hope amid the squalor in Alexandria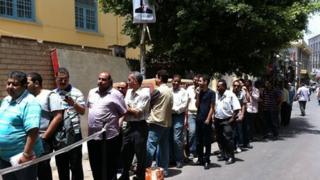 It's an almost casual, certainly unscientific, observation but the people of Alexandria seem to be much more at ease and confident that at any time in the past two years.
This is the fourth time that I've been to Egypt's second city in the past 15 months. Admittedly on each previous occasion it has been during a time of turmoil or upheaval. This city of more than four million people played a pivotal role in the overthrow of Hosni Mubarak.
The thousands of voices calling for change from Alexandria were heard just as loud as those in the capital, Cairo.
My subsequent visits came during the uncertain months of late 2011 when tensions between the interim military authorities and angry young people exploded into violence on the streets.
But now many Alexandrians, like millions of others across Egypt, are beginning to witness the benefits of those days of toil and turmoil.
I watched from the sidelines at a school in the centre of the city as hundreds of people waited patiently to vote in their first ever free and fair presidential elections.
Men and women queued separately before being guided through the process of choosing a candidate by election officials.
The choice was, of course, made in private but this is an unfamiliar process for Egyptians not used to being given a say in how their country is run.
Social divisions
Alexandria, once the thriving cosmopolitan heartbeat of the north, has seen better days. Buildings on the famous Corniche are in real need of a face-lift and a city that gained a reputation for tolerance and diversity has suffered serious sectarian tensions of late.
Thousands of Coptic Christians have left Alex in recent years because, say community leaders, of difficulties with a minority of increasingly radical Muslim activists.
Some of those divisions are at the fore in this election campaign.
Views from across the political spectrum can be found among the 12 candidates hoping to become Egypt's next president - one reason why this election will almost certainly require a second round of voting in mid-June.
But amid talk of whether the new president might be an Islamist, a liberal or even a member of the former regime - there are arguably more pressing concerns in a city that has suffered decades of neglect.
'We have no hope'
Egypt is a country of 80 million people, 40% of whom live in poverty - getting by on just a few Egyptian pounds a day.
As I found in the slums of Alex, religious dogma and party politics matter less than who will put food on the table or a roof over their heads.
In one building I trod precariously as Naga, an elderly lady, showed me around the ruins of what is still her home.
The roof literally fell in on the dilapidated house a few days ago. Five families live here in squalor with no regular income. Naga sighed dismissively when I asked her if a new president would change anything.
"As long as we live here, we have no hope," she said with a dismissive shake of her hand.
"These are my only clothes and possessions - nothing will change here."
Tareer al-Saeed, a community activist who showed me around the less salubrious areas of central Alexandria, says the urban poor have little faith in politicians and their promises of rapid reform.
A new president will face an expectant, demanding population and many here predict more years of upheaval. However, in Alexandria I met no-one who thought the overthrow of Mubarak had been a mistake or dreamed longingly for the former dictatorship - those days are gone for good.
Many things here are looking up and all Egyptians care about who will be their next president.
But as I witnessed arguments breaking out on the edge of Alexandria's slums, the price of bread is a bigger issue in the urban sprawl. Democracy alone won't bring 30 million people out of poverty.