Six world powers 'make Iran nuclear proposal'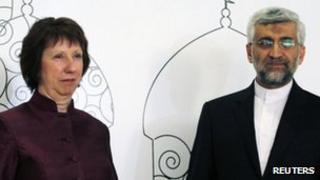 Six world powers have put forward a detailed proposal aimed at curbing Iran's uranium enrichment programme.
The proposal from the permanent members of the UN Security Council plus Germany included confidence-building measures, said the US state department.
The talks are being held in the Iraqi capital, Baghdad, at Iran's request.
They come a day after the UN's nuclear watchdog held talks with Iran to try to gain better access to the regime's nuclear installations.
Iran's Foreign Minister Ali Akbar Salehi said any efforts by Western powers to put pressure on Iran at the talks would be "futile".
But he told a news conference in Tehran on Wednesday that there were reasons to be optimistic about the negotiations.
"The ideas fielded to us speak of the fact that the other side would like to make Baghdad a success," he said. "We hope that in a day or two we can bring good news."
Tight security
The US, Britain, France, Russia, China and Germany are seeking to persuade Iranian officials to scale back their nuclear programme.
A US state department spokeswoman said confidence-building measures would "pave the way for Iran to demonstrate that its nuclear program is for peaceful purposes".
"This approach would also include step-by-step reciprocal steps aimed at near-term action on our part if Iran takes its own steps," she added, without giving specific details.
The talks are expected to continue into a second day, an unnamed Iranian official told AFP news agency.
He said Tehran had put forward "a package with five items based on the principles of step-by-step and reciprocity".
Tehran insists its uranium enrichment programme is for peaceful purposes, but the West fears Iran is developing a nuclear weapon.
Security is tight at the talks, with about 15,000 Iraqi police and troops protecting the venue inside Baghdad's heavily fortified Green Zone.
Previous talks in Istanbul in April managed to find enough common ground to arrange a further meeting in Baghdad.
Correspondents say Wednesday's talks will put these renewed efforts to the test.
Analysts say the main goal of the six powers will probably be an Iranian agreement to shut down the higher-grade uranium enrichment programme that it launched in 2010.
Iran has since expanded the enrichment process at an underground plant at Fordo, outside the northern city of Qom.
On Tuesday, International Atomic Energy Agency (IAEA) chief Yukiya Amano said an agreement with Iran over nuclear inspections was expected "quite soon" following his recent talks in Tehran.
The IAEA wants its inspectors to have greater access to Iranian sites, nuclear scientists and documents.
The EU, the US and the UN have all imposed sanctions on Iran over its nuclear programme.