Kidnap of pilgrims in Syria raises tension in Lebanon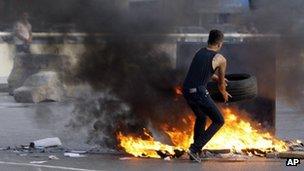 The kidnapping of 13 Lebanese Shia pilgrims in Syria has sparked angry protests in Beirut, adding to fears that Lebanon is being dragged into the unrest afflicting its neighbour.
Sheikh Hassan Nasrallah, head of the Shia militant group Hezbollah in Lebanon, appealed for calm after tyres were burned and roads blocked.
The pilgrims were returning through Syria after touring Iranian holy sites.
Lebanon is deeply divided over support and opposition to Syria's government.
Political factions in Lebanon have often defined themselves as pro- or anti-Syrian.
The BBC's Jim Muir, in Beirut, says the abduction of the pilgrims is the kind of spark that could ignite serious trouble in Lebanon.
'Strictly prohibited'
When the bus was intercepted, the women on board were allowed to go free and they are now in the Syrian city of Aleppo.
One of them, Hayat Awali, told Lebanon's al-Jadeed television: "When we crossed the border around 40 gunmen stopped the bus and forced it into a nearby orchard and said women should stay on the bus and men get out."
A relative of one of the hostages told Reuters the Free Syrian Army had taken the pilgrims and were demanding the release of its own members being held in Aleppo.
Activists have reported that the Syrian army has mounted a big operation in the area.
News of the abductions triggered widespread anger in parts of Beirut, although our correspondent says protests stopped abruptly after Sheikh Nasrallah went on television to deem such actions as "strictly prohibited".
He added: "We will work day and night until these beloved people are with us."
Hezbollah has stood firmly behind Syrian President Bashar al-Assad in his attempts to tackle the 15-month uprising. The driving force of the rebellion comes from the Sunni Muslim community.
Tension in Lebanon over Syria reached new heights on Sunday when an anti-Syrian cleric and his bodyguard were shot dead by a Lebanese soldier at a checkpoint in the north of the country.
That sparked clashes between pro- and anti-Syrian groups that left two people dead and 18 injured.
But earlier on Tuesday, the tension eased when Sunni leader Shadi al-Mawlawi was released on bail.
A fierce critic of the Syrian government, Mr Mawlawi had been detained in May on suspicion of links with extremist groups.
Syrian and Lebanese politics have been deeply intertwined throughout the history of the two states.
Syria had a large military presence in Lebanon for 29 years, finally withdrawing soldiers in 2005, but maintaining a strong influence.