Iraq Vice-President Tariq Hashemi trial starts in absentia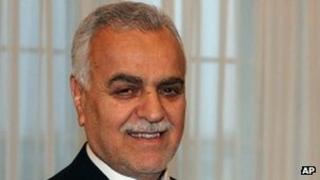 The trial of Iraq's fugitive Vice-President, Tariq al-Hashemi, has started in Baghdad in his absence.
He is one of country's top Sunni Arab figures and is accused of running death squads targeting Shia officials.
Testifying in court, some of his former bodyguards said Mr Hashemi had ordered murders. Prosecutors say he was involved in 150 killings,
Mr Hashemi, who fled to Iraq's Kurdish north in December, says the charges against him are politically motivated.
He is now in Turkey, where he is reported to be receiving medical treatment. Mr Hashemi says his life would be in danger if he returned to Baghdad.
He claims the case amounts to persecution by Prime Minister Nouri Maliki's Shia-led government.
Mr Hashemi's supporters have also claimed that some of his bodyguards made allegations about death squads under torture. The Iraqi judiciary dismissed the accusations of torture.
One of them, Ahmed Shawqi, told the court on Tuesday: "He asked me to plant a car bomb near Buratha mosque, and I carried out the operation."
Another bodyguard, Uday Ghazi Amin, said he was paid $3,000 by Mr Hashemi for assassinating Brig Gen Talib Balaasim last year.
A third, Ahmed al-Jubouri, testified that he was ordered to kill a national security official, Ibrahim Saleh Mahdi, and his wife in November because he had become "a source of annoyance".
The trial is starting by focusing on three murder charges involving the assassination of a manager in the ministry of national security, an officer in the interior ministry and a female lawyer.
But Mr Hashemi and his bodyguards are also charged with killing six judges, and prosecutors are investigating another 300 potential charges against them.