BBC uncovers abuse at children's care homes in Jordan
A BBC Arabic investigation has uncovered cases where children have been seriously injured in Jordan's private care homes for the mentally disabled.
Nasar Sharmain trusted the al-Helal Centre in Amman with his 15-year-old son Ahmad.
But on a surprise visit, he was shocked when he saw his son.
"His arm was broken. His finger was broken. His ear, his nose, his chin from here to here was all covered with blood," he says.
The centre says Ahmad arrived with behavioural problems and denies he was beaten up, saying he deliberately threw himself onto a wardrobe.
But Mr Sharmain believes Ahmad's teacher attacked his son. He sued him, without success.
His lawyer, Basam al-Dmor, says it is very difficult to bring cases like his.
'Extensive burns'

The director of al-Helal, Dr Shaker Abo Hatab, says an initial hospital report stated Ahmad had a head injury after falling and any further wounds must have happened after he left the centre.
"We have reports from the ministry of health that the child has a tendency to hurt himself," he adds.
Khalid Yusef Abo Dagga brought his son Yusef, 12, from the United Arab Emirates.
He had searched the internet and was impressed with the Arab City Centre in Amman.
It was expensive - 1,000 Jordanian dinars ($1,400, £880) a month - but Mr Abo Dagga wanted the very best for his son.
Mr Abo Dagga was not too worried when the centre rang him in the UAE and said Yusef had spilt some hot water on himself.
But he found his son had already been in hospital for over two weeks with serious burns to half his body. He still faces extensive treatment, including the constant dressing of his wounds.
'Climate of impunity'
Yusef's father commissioned an independent report from specialist doctors to try and get to the truth.
It said Yusef's injuries were caused by a chemical substance or burning and that it was difficult to believe the burns were the result of an accident.
The government told BBC Arabic that complaints of abuse were rare, although there were no meaningful statistics.
But BBC Arabic spoke to numerous parents, former and serving care workers and experts and put together a dossier of cases.
It shows that eight of Jordan's 54 private care homes face recent allegations of abuse. It seems there is a climate where staff can act with impunity.
A teacher at the al-Razi Centre is caught on film telling other staff how he grew frustrated with a boy in care and ended up beating him.
The teacher explains how the boy had taken the covers off soon after he put him to bed and then refused to go to sleep. The boy had wanted to come with him because he was still awake, the teacher says.
"Then imagine, he took the sheets off and then he turned his bed upside down and sat on bare metal. And then I caught him and when I get angry I'm a disaster.
"And then I covered him and went on top of him and then I kept jumping on him. And then I didn't feel him breathing any more and I thought he was dead. After that he went to sleep."
'Not normal'
In a classroom at the al-Razi Centre a young boy is tied in his chair for most of the day, ignored by staff.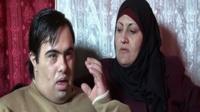 He has nothing to do but sometimes watch television or just stare into space.
At the same centre, a young blind woman is left completely alone on her bed most of the day. Staff come only at meal times, or occasionally to take her to the toilet.
BBC Arabic's reporter found her in exactly the same position a year earlier when she first visited the centre.
At Ibn Khaldoun, a boy with a foot infection needs some medication, but a teacher said the principal had "taken it home".
When the reporter asked about medical supplies she was mocked by members of staff.
A teacher at the Ibn Khaldoun centre says: "How do you think they are going to stay in one place and be quiet? Not by calling them love and dear but by grabbing the kid like this... They are not normal."
The man responsible for Ibn Khaldoun and al-Razi care homes refused to give an interview after being presented with a dossier of evidence.
Owner Zaid Sakkijha denied there was any abuse.
'Red lines'
BBC Arabic also uncovered allegations of sexual abuse at one private care home.
A former care home worker says that the shame of sexual abuse stops families pushing for proper investigations.
The Jordanian government is responsible for licensing private care homes and it sets out regulations for what they have to provide.
But, surprisingly, most of the rules to get a licence are only about the building - such as the height of rooms and the size of the water tank.
There is very little mention of how children should be treated or what education they should receive.
The ministry of social development says inspectors visit private centres regularly.
The Jordanian government insisted the abuse should not be happening.
"Even if there are only a small number, they are severe in terms of their significance because it is a matter of human rights. It is the disabled who need to be protected and therefore we have red lines," a statement said.
"Even if the abuse is done by an employee we will not tolerate it and the court will have its say," it added.