Retrial of Bahraini medics adjourned until June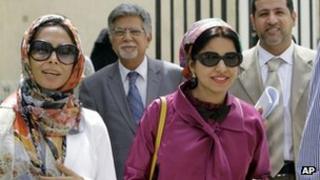 The retrial of 20 Bahraini medics accused of aiding anti-government protesters has again been adjourned.
They were found guilty by a military tribunal last year and sentenced to up to 15 years in jail. But a retrial by a civilian court was ordered in October.
The retrial began in March and was immediately adjourned. On Thursday, the court delayed proceedings until June.
Defence lawyer Jalila al-Sayed told the BBC that she was optimistic some of the charges would now be thrown out.
She said the government, which faced international condemnation over the convictions of the doctors and nurses, was trying to save face.
A retrial is also under way for a group of 21 activists and opposition figures, including Abdulhadi al-Khawaja, who is on hunger strike.
'Tortured'
Some of the 20 doctors and nurses facing retrial were working at the Salmaniya Medical Complex in Manama during February and March 2011, when security forces violently suppressed mass pro-democracy protests.
In September, the National Safety Court, a military tribunal, found them guilty of publicly inciting "hatred and contempt for the governing regime" and "hatred and contempt for a certain class of people", as well as engaging in illegal assemblies.
It also convicted 14 defendants of "broadcasting false and tendentious news", and 13 of them of the "occupation" of a medical facility. Two were also convicted of weapons possession charges and another two of illegal detention charges.
The defendants said they were only doing their jobs as medical professionals, duty-bound to help all who needed care, including protesters. They also said they were tortured while in detention, and signed confessions under duress.
Their retrial was to resume on 26 April, but it was immediately postponed by the court. On Thursday, judges adjourned the proceedings until 14 June, when verdicts are expected to be read out.
After the hearing, Ms Sayed, who did not work at Salmaniya, told the BBC that she was now cautiously optimistic that at least some of the charges would be thrown out.
She said the government was "embarrassed" and wanted to find a face-saving solution, possibly including the full acquittals, partial acquittals, or the upholding of the convictions but with lighter sentences.
Defence lawyers have argued that all the defendants should be acquitted as the evidence used to convict them was obtained under torture.
One of the defendants, Dr Nada Dhaif, told the BBC earlier this year that before signing a confession while blindfolded, she was beaten, threatened with rape and given electric shocks by security forces.
When Ms Sayed was asked if those responsible for the alleged abuse of Dr Dhaif and her colleagues would face charges, she replied: "What chance is there that the torturers will be brought to justice? No chance, absolutely none."
The government says it has launched investigations into allegations of abuse, and notes that several police officers have been convicted.