Egyptian satirists laugh at presidential candidates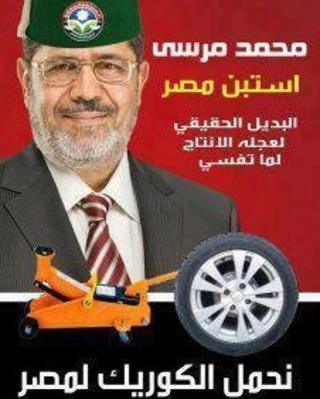 Egyptians pride themselves on their sense of humour - which they believe is the most sophisticated in the Arab world.
And with presidential elections looming, the leading candidates have been mercilessly lampooned by Egypt's satirists.
Thirteen contenders have joined the election race, which is due to start on 23 May.
Humorous posters have been published online by critics of candidates seen as front runners - Mohammad Mursi, Amr Moussa, Abdul Moneim Aboul Fotouh, and Ahmed Shafiq.
The comic posters tend to focus on what the critics believe are the candidate's weaknesses.
The 'spare' president
Mohammad Mursi, the Muslim Brotherhood (MB) candidate, was chosen by the group as a reserve candidate because the legal position of their preferred option, Khairat al-Shatar, was uncertain.
Mr Shatar was subsequently disqualified by the Higher Presidential Election Commission on legal grounds.
For some, Mr Mursi does not cut the figure of a president, although he is backed by the MB's powerful propaganda machine.
His choice as a substitute has been the theme of a flurry of comic posters published online.
In one poster, Mr Mursi appears with a car wheel and a jack. It reads: "Mohammad Mursi, the spare tyre of Egypt. The real alternative to a proper tyre when it deflates."
The slogan used by the MB during the recent parliamentary elections, "We are bringing good to Egypt", was turned on the same poster into "We are bringing the jack to Egypt".
'Fulul'
Amr Moussa, another front runner, is also criticised in a number of posters, mainly over his service in the former regime. He served as foreign minister under ousted President Hosni Mubarak.
His critics call him "fulul", which refers to the "remnants" of the Mubarak regime. In one poster, Mr Moussa appears raising his hand during a meeting of the World Economic Forum, with the words "I am fulul" added.
Mr Moussa's critics also focus on what appear to be contradictory statements from him about Mr Mubarak. A poster, headlined in English "The biggest transformer" (a reference to the make of toy with the same name), depicts Mr Moussa as an animated transformer and quotes him in different years.
"In 2010: 'I will vote for Mubarak because I respect his way of managing things.'
"In 2011: 'The Mubarak regime is responsible for sectarian violence.'"
Mr Moussa has explained the apparent contradiction by saying that, given the situation in Egypt under the former regime, he would have voted for Mr Mubarak, as the alternative would have been his son, Jamal.
'Real MB candidate'
Satirical posters have been also published about two other prominent candidates, Ahmed Shafiq and Abdul Moneim Aboul Fatouh.
Mr Shafiq, who served as minister of civil aviation and prime minister during Mr Mubarak's last days in power, is taunted by his critics as being close to the former president.
One poster shows half of Mr Shafiq's face and half of Mr Mubarak's put together, clearly suggesting that they are two sides of the same coin.
Abdul Moneim Aboul Fotouh, meanwhile, was dismissed by the MB over his decision to run for president, in contravention of the group's stance at the time.
However, it seems some question this version and believe Mr Aboul Fotouh is the hidden candidate of the MB.
A poster shows him with the logo of the MB's political arm, the Freedom and Justice Party (FJP). It reads: "The FJP, established by the MB for all Egyptians, supports Abdul Moneim Aboul Fotouh, the real candidate of the MB for president."
Disqualified candidate
The idea of posters poking fun at presidential candidates had emerged earlier, before Salafist preacher Hazim Saleh Abu-Ismail was disqualified from the race over his mother's dual nationality.
Before his exclusion, Mr Abu-Ismail's posters were on almost every street in Egypt. This led to a flurry of humorous posters online.
In one poster, US President Barack Obama is having a conversation with Turkish Prime Minister Recep Tayyip Erdogan, with Mr Abu-Ismail's picture hung on the wall in the background.
Mr Obama says: "Can you believe it, Erdo? This morning, I was going to give my children a lift and I found Abu-Ismail's picture stuck on the car."
Erdogan: "That's serious...!!!"
Other posters showed Mr Abu-Ismail's posters on another planet, and even imprinted on the jersey of Barcelona's football star Lionel Messi.
BBC Monitoring selects and translates news from radio, television, press, news agencies and the internet from 150 countries in more than 70 languages. It is based in Caversham, UK, and has several bureaux abroad.