Egypt's military council 'committed' to civilian rule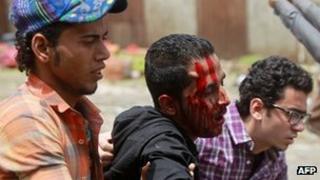 Egypt's ruling military council has insisted it is committed to handing over power to civilian rule by the end of next month.
It said international monitors from 45 countries will be invited to observe presidential elections.
The Supreme Council of the Armed Forces (Scaf) said it "deeply regretted" the deaths of protesters on Wednesday.
At least 20 people died in Cairo as they demonstrated against the barring of a candidate from the polls.
Scaf member Mohammad al-Assar said the council wanted to express its "deep regret over the victims and those injured" in the violence.
Unknown attackers used rocks, clubs, firebombs and shotguns to attack a protest near the Egyptian Ministry of Defence in the capital.
"I want to stress that the Egyptian blood is very precious and it should not be spilled," Mr Al-Assar said.
He said he was astonished that anyone could suspect that the military might rig the upcoming election, adding: "Today, we state it very clearly and frankly that the armed forces and its supreme council are committed to handing over power at the scheduled time or even before 30 June."
Those protesting were supporters of Salafist preacher Hazem Abu Ismail, disqualified because his mother had dual Egyptian-US nationality.
Two leading presidential candidates suspended campaigning in protest at the way authorities handled the demonstration.
Abdul Moneim Aboul Fotouh, an independent Islamist, and Mohammed Mursi, head of the Muslim Brotherhood's Freedom and Justice Party (FJP), criticised the authorities' response.