Yemeni soldiers 'will be beheaded' by militants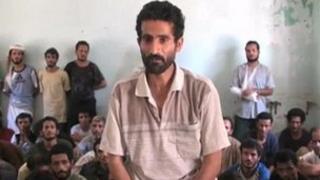 Eighty-five soldiers being held by Islamic militants in Yemen are in danger of being beheaded, according to a video obtained by the BBC.
The video shows one of the soldiers appealing for help.
Addressing the camera, he says that they have been sentenced to death, and asks for immediate action to be taken to save their lives.
Yemeni President Abdrabbuh Mansour Hadi has ordered an offensive in Abyan province to try to drive militants out.
Standing up, with crowds of other soldiers sitting behind him, the man says: "We plead with all the people of Yemen to save our lives. They promised to slaughter us in a few days. Please save us, save us, save us."
The group say they are being held in the city of Jeaar in Southern Yemen by Ansar Ash'aryiah, a group linked to al-Qaeda.
President Hadi was elected president in February, following the resignation of President Ali Abdullah Saleh after months of protests.
President Hadi immediately said one of his most important tasks was the "continuation of war against al-Qaeda as a religious and national duty".
Militants seized large parts of Abyan last year. Troops have suffered major losses trying to push them out.