Ahmed Shafiq disqualified from Egypt presidential poll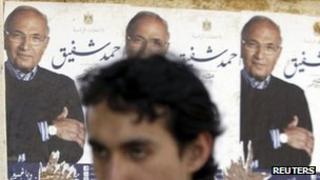 Former Prime Minister Ahmed Shafiq is the latest candidate to be disqualified from Egypt's presidential election.
Mr Shafiq was barred by the electoral commission on Tuesday under an amended law that prevents senior officials from the Hosni Mubarak era from standing.
The law was only ratified by the ruling military council on Tuesday, two days before the commission was due to announce the final list of candidates.
From an original shortlist of 23, only 12 candidates remain in the race.
Mr Mubarak's former vice-president and spy chief, Omar Suleiman, was disqualified for different reasons, along with two Islamists, Khairat al-Shater of the Muslim Brotherhood and Salafist Hazem Abu Ismail.
'Constitutional sin'
The amendment to the law governing political rights was rushed through the Islamist-dominated parliament after Mr Suleiman announced he was standing, and unexpectedly endorsed by the Supreme Council of the Armed Forces (Scaf).
It bars from the presidency anyone who served in senior positions in government and the ruling National Democratic Party under President Mubarak in the decade before he was forced to step down in 2011.
The list of positions does not include that of minister, so it did not derail the candidacy of Amr Moussa, who was Mr Mubarak's foreign minister until 2001 before becoming the Arab League's secretary general.
The amendment did, however, lead to the disqualification of Mr Shafiq, a former air force commander and cabinet minister who was prime minister in the last days of Mr Mubarak's rule and served briefly under the Scaf.
Before the Higher Presidential Election Commission (HPEC) announced its decision, Mr Shafiq's campaign issued a statement calling the new law "a shame and a constitutional sin" that would cast a shadow on the poll.
The BBC's Jon Leyne in Cairo says the controversy over disqualifications has overshadowed the debate over policies and personalities.
Finally now, our correspondent adds, the election campaign is gathering momentum, just a month before the first round of voting.
The front-runners in the race beside Mr Moussa are the independent, moderate Islamist Abdel Moneim Aboul Fotouh and Mohammed Mursi, the chairman of the Muslim Brotherhood's Freedom and Justice Party (FJP).
In a separate development on Tuesday, parliament rejected the Scaf-appointed government's economic plan, setting back its efforts to secure a crucial $3bn loan from the International Monetary Fund.
The IMF had made a broad political consensus a condition for the loan.
"The IMF remains ready to support a home-grown programme that maintains macroeconomic stability and promotes inclusive growth, enjoys the necessary broad political support, and includes adequate external financing from Egypt's international partners," a statement said.