Egyptian voters' views: who should be the new president?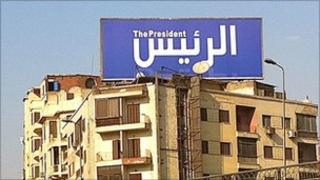 In Egypt, there have already been many twists and turns in the run-up to what it is hoped will be the country's first ever free and fair presidential elections.
A move by the state election committee to bar 10 of the 23 candidates, including three top contenders, could reshape the presidential election just five weeks before the polls open on 23 May.
The ultra-conservative, Salafi, Hazem Salah Abu Ismail, was disqualified because his mother held US citizenship, the state news agency reported.
The mainstream Muslim Brotherhood's primary nominee, Khairat al-Shater, was barred due to a past criminal conviction.
Omar Suleiman, the former intelligence chief to the ousted president, Hosni Mubarak, was also excluded apparently due to irregularities in how the signatures to support his nomination were collected. All three are appealing.
As Egyptian voters try to make sense of the latest developments, the BBC's Yolande Knell and Zakariya Ayyad asked local people in the province of Giza for their views on who should be the next president.
Abdul Moneim, shop owner
My number one candidate is Amr Moussa. He was Secretary General of the Arab League and he is very experienced. He knows about foreign and domestic policy. He will look after Egyptians at home and expatriates. He is someone who loves his country and wants to serve it.
The president of the republic is very important. He's the pillar of the state. He needs to set a good example for his people. He must be well versed in politics and know how to take care of our problems and deal with Arab and European countries. This is the kind of person that we should elect.
Rashida, housewife
We want a president who fears God, who is pious. I am supporting Hazem Saleh Abu Ismail. I love him as I love my own father because he quotes God and the prophet.
Since he does this I know he would be good. We want Hazem Saleh Abu Ismail to be president and we wish him good luck. As long as he keeps God in mind he won't steal from the country or its people.
I hope things will get better in Egypt. We would like to end unemployment and the problem whereby young people graduate from university, after their families have spent a lot of money on their education, and they can't find appropriate jobs. I have three children who are university graduates but they don't work in relevant fields.
Muhammad Magdi, currently unemployed
I want the next president to be just and to take Egypt into a stable phase at the economic level so that people can find work. Security is the other important issue. ‪I believe that the best candidate is Omar Sulayman. He is the most capable person for this job thanks to his previous experience with the General Intelligence Service. I want the Egyptian people to choose the best candidate from their own point of view, the one who can lead Egypt for the better.‬
Ahmed Mohammed, stallkeeper
The most important thing is that the new president is in touch with ordinary people so he can feel our problems and take care of our demands. He must be a politician and understand world affairs. The last president or maybe it was the people around him, they didn't worry about our interests. They drained us. We don't want the tragedy that we experienced before to be repeated again.
We are still thinking about [who would be the best choice] because some of the candidates are fit and others aren't.
Mohammed Hamdi Ahmed, head teacher
The guy I'm going to vote for should be an expert in politics, someone like Amr Moussa or [reformist Islamist and former Muslim Brotherhood leader, Abdul Moneim] Aboul Fotouh. These are people who carry weight in society.
The official Muslim Brotherhood candidate [Khairat al-Shater] has just got out of prison. This can't work out. And there's even this guy who sings, Saad al-Saghir [a popular Egyptian entertainer who registered]. There should be criteria and conditions. Why are they leaving this open for everyone?
We are going through a critical period and we need someone who is dedicated and maintains Egypt's integrity and standing in the world. The top post is very important and grand. It requires proper training. Unfortunately after the revolution there was a lot of confusion and we found that many people who know nothing about politics were nominating themselves.
Reda Abde-al-Fattah Fuda, mechanic
‪I will vote for [the official Muslim Brotherhood candidate], Khairat al-Shater. I am very angry with the Egyptian media because it accused the Muslim Brotherhood of lying [when it changed its policy on running for the presidency]. There is no lying in politics. Omar Sulayman said he wouldn't run and then he changed his mind and decided to run. Why isn't this lying too?
We voted for the Brotherhood and they got the majority of seats in parliament. The majority should choose the constitution assembly and the president. When the parliament summons ministers from the [interim] government, they refuse to go to parliament.
We need the next president to care for the poor. He should increase salaries, improve services, health insurance and transportation. He should also be moderate because there are Muslims and Christians in our society.