Shalit prisoner swap: Your reaction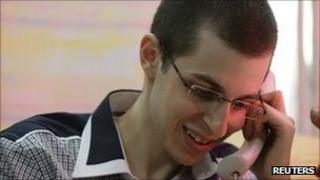 Israeli soldier Gilad Shalit has arrived back in Israel following his release from five years' captivity, as part of a prisoner exchange deal.
Tens of thousands of Palestinians in Gaza City are celebrating the release of the first 477 prisoners, out of a final total of 1000.
BBC website readers in the region have been reacting to the news.
Moshe Chertoff, Kibbutz Shomrat, Israel
My younger son is stationed at this moment at the same place where Gilad was taken prisoner.
My older son finished regular duty and continues as a reservist. I gave 22 years on the border. I am not a fan of Israeli Prime Minister Benjamin Netanyahu to say the least, but salute him for his courageous decision. I will defend it to whoever condemns him for it. You can't govern if you're not prepared to take difficult decisions.
If Mr Netanyahu understands the moment in history, he will negotiate with the Palestinian Authority (PA) and Hamas to release all Palestinian prisoners tomorrow.
On condition that all three meet in Cairo the day after tomorrow to start talks aimed at accepting the Geneva Initiative Final Status Agreement and end the conflict and all claims within three years.
I edited the agreement's English version and know it well. It's ready to use and will only need a few amendments. It can all be concluded within a month.
In two months, the window might close and never open again, without a prolonged period of more suffering and death. I wish Gilad, the Palestinian families and all who have suffered, a new hope for our future. I hope today's events will be a precursor to peace.
Amjad Shawa, Gaza City
Residents in the streets of Gaza are euphoric. Everyone is celebrating the release of our political prisoners. We hope the Gilad Shalit case will lead to more releases.
The plight of Mr Shalit has struck a cord with many Palestinians. We can all understand the trauma his family must have endured for the last five years since thousands of our own men have been incarcerated, kept in solitary confinement and brutalised in bleak, concrete Israeli prisons.
In tiny cells our men are kept from seeing their families, their wives, mothers and children, sometimes for more than a year.
In stark contrast to Mr Shalit's experience, our political prisoners have little hope of having their stories highlighted by the world's media. Few broadcasters report the many difficulties faced by millions of Palestinians living under occupation.
The international community has failed to rebuke Israel's settlement policy and as a result the people of Gaza suffer. We do not live on equal terms, Israel possesses a state and we do not. We can do little about it, absolutely nothing.
We continue to live in cramped conditions and have a high rate of unemployment. The future is bleak unless Israel is forced to review its policies.
Every Palestinian hopes for peace and an end to the acts of violence perpetrated by both sides but we will continue to assert our right for autonomy and self determination in our land.
Rom Keshet, Ramat-Hasharon, Israel
While happy to see Shalit back home I am strongly against this deal.
A country cannot put the interests of one family before the interests of the rest of its citizens.
Those prisoners released today are not in any sense of the word 'freedom fighters'. Among them are hundreds of loathsome mass-murderers, who designed terror attacks that took the lives of hundreds of innocent men, women and children.
The dry statistics of past swap deals tells us that about 60% of the released terrorists are expected to be involved again in active terror.
There are dozens of Israelis who have paid with their lives for such past deals. Moreover, what kind of a message are we sending to terrorist groups like Hamas, who have sworn to destroy the state of Israel?
We are inadvertently telling them that terror and kidnapping pays. That they can always count on the next deal to get them out of prison without paying for their horrible crimes.
A country that is loyal to its citizens must make difficult decisions with its head and not from its stomach.
Nabeel Abujazar, Gaza strip
I am thrilled about the release of the thousand Palestinian prisoners but at the same time I'm also deeply concerned about the remaining 5500 Palestinian prisoners languishing in Israeli prisons.
The deal reached between the Israeli government and Hamas served both sides.
Israel is haemorrhaging key allies and releasing the Palestinian prisoners is a clear signal to the international community that they are willing to negotiate. For Hamas this deal bolsters their position and eases tensions within the political party.
I feel this agreement served the interests of the Israeli government more but I also question the reasons behind the Hamas decision to reject previous attempts to negotiate the release of Gilad Shalit.
The exchange of a 1000 Palestinian prisoners with one Israeli soldier is a victory tinged with great sadness. This accord has been reached at the expense of thousands of Palestinian lives.
For the last five years Israel, in a show of force, has adopted punitive measures against the people of Gaza as they tried to recover their kidnapped soldier.
How many innocent Palestinian people were killed in this campaign? Is it possible to calculate the level of destruction levelled against our city or the damage done to Palestinian people? I think we are the losers in this deal. We have lost more than we have gained.
Thousands of civilians have been wounded or killed. Hamas should have negotiated harder to prevent those civilian deaths.