China calls on Syria's Assad to speed up reforms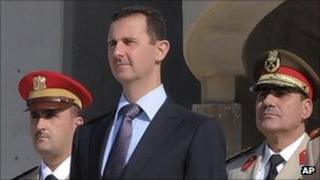 China has urged Syria to speed up reforms, in a sign that it may be losing patience with the regime of Bashar al-Assad.
Foreign ministry spokesman Liu Weimin said China did not "want to see more bloodshed, conflict and casualties".
Russia has made a similar plea, telling Mr Assad to implement reforms or go.
Both Russia and China infuriated the West last week after vetoing a UN Security Council resolution condemning Syria for the crackdown on protesters.
The European-drafted proposal had already been watered down to try to avoid the vetoes, with a direct reference to sanctions against Damascus dropped.
But Moscow and Beijing said the draft contained no provision against outside military intervention in Syria.
Election pledge
"We believe the Syrian government should more rapidly implement their promises of reform, begin and advance as soon as possible a process that is more lenient and inclusive to all parties... and through dialogue appropriately resolve issues," Liu Weimin told reporters.
It is rare criticism from a country which generally has a policy of non-interference in the domestic affairs of other countries.
His comments come as Russian Prime Minister Vladimir Putin arrived in Beijing for a two-visit.
Russian President Dmitry Medvedev said last week that Moscow "wants as much as the other countries for Syria to end the bloodshed and demands that the Syrian leadership conduct the necessary reforms".
He added: "If the Syrian leadership is incapable of conducting such reforms, it will have to go, but this decision should be taken not in Nato or certain European countries, it should be taken by the Syrian people and the Syrian leadership."
Mr Medvedev had previously called for Syria to launch reforms but had stopped short of saying Mr Assad should step down if he did not implement them.
President Assad has used the army to try to quell months of anti-government protests. The UN estimates 2,900 people have died since the unrest began in March.
Mr Assad - who has blamed the violence on armed gangs - says he is in the process of introducing reforms, and has announced local elections for December and parliamentary elections for February.