Syrian ex-attorney-general Bakkour 'survives attack'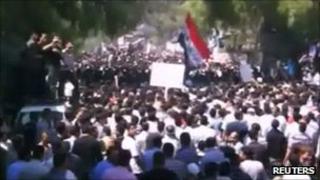 The former attorney-general in Hama who disappeared last week has survived an attack by Syrian security forces, according to an audio message on YouTube.
In the message, a voice activists say is that of Adnan Bakkour says he was tracked down on Saturday.
Four of his bodyguards were killed and Mr Bakkour was slightly wounded, but managed to escape, adds the voice.
State media continue to say Mr Bakkour has been kidnapped by the opposition.
Pro-government newspapers in Damascus quote security officials as saying he was being held against his will near the border with Turkey, and that his statements were being made under duress at gunpoint. Soldiers are looking for him so they can free him, add the reports.
The audio account differs considerably; in it the man believed to be Mr Bakkour says he was slightly wounded, but that revolutionaries managed to get him away to safety.
Mr Bakkour first appeared on YouTube shortly after his disappearance last week, saying he had resigned because the government had killed hundreds of protesters in Hama.
Syrian security personnel were carrying out house-to-house searches and arresting scores of people trying to find him, say opposition sources.
State media - which is giving the case strong coverage - say Mr Bakkour remains loyal to President Bashar al-Assad.
State TV says Mr Bakkour is known for his enthusiasm for Syria, its people and its leader, adding that to say that he has resigned is a slur on his good name.
It has also lashed out at the way al-Jazeera and others have reported the story, saying the incident has become "a fatty meal" in the banquets of anti-Syrian TV channels.
Access to Syria has been severely restricted for international journalists and it is rarely possible to verify accounts by witnesses and activists.