Iran profile - leaders
Supreme Leader: Ayatollah Ali Khamenei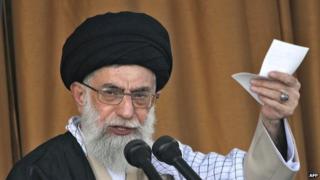 The Supreme Leader - the highest power in the land - appoints the head of the judiciary, military leaders, the head of radio and TV and Friday prayer leaders. He also confirms the election of Iran's president.
Moreover, the Supreme Leader selects six members of the 12-member Guardian Council, an influential body which has to pass all legislation and which can veto would-be election candidates.
The Leader is chosen by the clerics who make up the Assembly of Experts.
Ayatollah Ali Khamenei was appointed for life in June 1989, succeeding Ayatollah Khomeini, the founder of the Islamic republic. He previously served two consecutive terms as president in the 1980s.
He has intervened on behalf of conservatives, coming into conflict with former president Mohammad Khatami and other reformists.
Ayatollah Khamenei endorsed the results of the disputed presidential election of June 2009, which gave a landslide victory and a second term to his ally, President Mahmoud Ahmadinejad.
However, the unprecedented defiance by opposition supporters to his call for an end to street protests against the result is thought to have undermined his authority.
There were further challenges to his authority during the violent protests that followed the death of leading dissident cleric Grand Ayatollah Hoseyn Ali Montazeri - a prominent critic of Ayatollah Khamenei - in December 2009.
In an unprecedented move, the government publicly announced that Ayatollah Khamenei would undergo prostate surgery in 2014. The leader's health had previously been treated as a taboo topic.
President: Hassan Rouhani
Hassan Rouhani was elected as Iran's president in June 2013, winning just over 50% of the vote.
The cleric, regarded as a religious moderate, was backed by the reformists, led by former President Mohammad Khatami. He was endorsed by former President Akbar Hashemi Rafsanjani, who was barred from running for office.
Mr Rouhani says he wants to steer Iran towards "moderation". One of his main election pledges was to try to ease the crippling international sanctions imposed on Iran over its nuclear programme.
He gradually achieved this through an interim agreement in November 2013 with the P5+1 group - US, Britain, Russia, China, France and Germany - under which Iran agreed to curb uranium enrichment above five per cent and give UN inspectors better access in return for about $7bn in sanctions relief.
A long-term deal was reached in July 2015, when Iran agreed to significantly limit its sensitive nuclear activities for more than a decade in return for the lifting of sanctions, which duly followed in January 2016.
Mr Rouhani was an Islamic activist in the run-up to Iran's 1979 revolution, and was later an influential figure during the Iran-Iraq war. He served as Iran's chief nuclear negotiator from 2003 to 2005, when he was removed by his ultra-conservative predecessor as president, Mahmoud Ahmadinejad.
Mr Ahmadinejad was re-elected in June 2009 amid a bitterly contested poll that led to serious internal unrest. His harsh rhetoric - most notably over Israel and the Jews - often caused outrage abroad.
He likened Israel to a "cancer" and demanded its replacement with a Palestinian state, while describing the Holocaust as a "myth". He faced criticism at home over his handling of the economy, with hardship on the rise as a result of falling oil prices and the impact of the nuclear sanctions.