Yemen protest attacked by police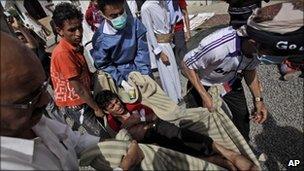 Police in Yemen have attacked anti-government demonstrators in the centre of the capital, Sanaa, killing up to six people and injuring many more.
Reports say hundreds of police moved in, using tear gas, water cannons and live bullets at a protest camp in Tahrir Square.
The clashes came after the US urged opposition groups to take up President Ali Abdullah Saleh's call for talks.
Weeks of protest against his 32-year rule have left about 30 people dead.
The protesters have been camping out in Sanaa's Tahrir Square for weeks.
Doctors in the camp said police were blocking medical teams from entering the area.
One doctor told BBC Arabic that six people were dead and 1,250 injured - 250 of them seriously.
"It felt like a massacre, there were police teams in official uniforms and plain clothes police and they were attacking the protesters," one witness told the Reuters news agency.
"They used tear gas and gunfire and chased some people out into the streets."
On Thursday, President Saleh announced plans to change the constitution to move to a parliamentary system.
In a live televised address, he said a referendum would be held this year on measures including a new election law.
However, opposition groups said their demands were "bigger than that".
They have also dismissed Mr Saleh's earlier promise not to seek re-election after his current term ends in 2013.
Protection pledge
The Yemeni republic was created by the merger of North and South Yemen in 1990.
Before that, Mr Saleh led the Yemen Arab Republic - the northern part of present-day Yemen - since 1978 when he came to power in a military coup. Direct presidential elections were first held in 1999.
Although nominally a multi-party system, Yemeni politics has been dominated by Mr Saleh's General People's Congress since unification.
Yemen is one of a number of countries in the North African and Middle East region that have seen increasing unrest since the presidents of Egypt and Tunisia were ousted in popular revolts earlier this year.
President Saleh on Thursday promised to protect demonstrators.
"We have ordered the security forces to continue to provide protection for all the protesters, whether they are supporters of our legitimacy or from the opposition," he said.
The president faces a separatist movement in the south, a branch of al-Qaeda, and a periodic conflict with Shia tribes in the north.