Egypt unrest: Tough questions if revolution succeeds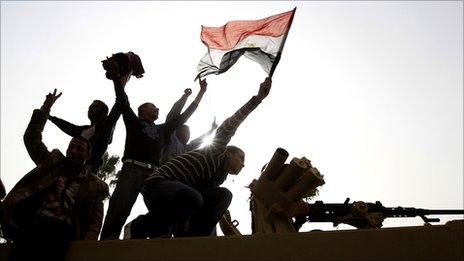 The ordered surroundings of the presidential offices where Hosni Mubarak officially appointed Omar Suleiman, his trusted intelligence chief, as his first deputy seemed a far cry from the anger and chaos that was clearly visible on nearby Cairo streets.
While he no doubt hoped his new government would assure demonstrators of his intentions to embrace political reform, as he announced on state television late on Friday, few were convinced by his efforts.
"We are not dying so that he can just make changes to his ministers. We want a real democracy with limited presidential terms. He didn't listen to the people," said Mohamed Sadiq who had joined tens of thousands of Egyptians in the crowds in central Tahrir Square.
A student, Yumla, dismissed the elderly Mr Mubarak as hopelessly out of touch with reality.
"All people are against this president and his government and its corruption," said Yumla. "It's rubbish. We don't want it any more and we won't go home until he goes."
In recent years, pro-democracy and human rights rallies have tended to draw small numbers of the same familiar faces onto the streets, usually to be crushed with a heavy-handed security response.
Now though, as was recently seen in Tunisia, people are finding relative protection in their large numbers.
What comes next?
If, as they demand, the president steps down and the government should fall, questions loom large about who and what would follow.
As the Jasmine Revolution model shows it can be hard to come up with answers that satisfy the masses.
Years of suppression in Egypt have left a fractious opposition, often divided by personal and ideological rivalries.
If there were free and fair elections, it is widely expected that the Islamist Muslim Brotherhood would win.
Officially illegal, but largely tolerated, it is the most well-organised opposition movement with a network of thousands of grassroots members.
It won one-fifth of the seats in parliamentary elections in 2005 - half of those it contested - with its members running as independents.
Mr Mubarak has long raised the spectre of an Islamist takeover of Egypt to scare his international allies against criticising his ruling party's political tactics.
While the Brotherhood has been careful to take a low-key role in the latest protests, this week a senior leader, Essam El Erian, told the BBC, the West should respect Egyptians' religious beliefs and aspirations.
"Islam is compatible with democracy, it is pro the rotation of power, it is pro equal rights and duties for all citizens," he asserted. "Islam wants a moderate democratic state. You must listen to the people."
Political solution
In the past year activists have suggested that the former head of the United Nations nuclear watchdog, Mohamed ElBaradei, could make a suitable, secular transitional leader for Egypt, as he is respected on the world stage.
His sharp criticisms of the Mubarak government since he returned to his home country last year roused many Egyptians who had previously given up on politics.
He has declared that the Muslim Brotherhood should be a political party and worked with them as part of his umbrella group, the National Association for Change, to collect a million signatures for a petition demanding constitutional reforms.
Now watching developments unfold, Mr ElBaradei predicts that the president and his associates will not succeed in hanging on to power.
"The only solution is to listen to the people. The solution is a political solution. The regime has failed and they need to go," he commented.
Other ideas for future leaders include the head of the Arab League, Amr Moussa, formerly a popular foreign minister.
There is also the possibility that the new vice-president, General Suleiman, a military man - as all Egypt's leaders have been since the king was ousted in 1952 - could be asked to take the reins of power through a turbulent period.
He has the support of the armed services and they will be key to the final outcome of this attempt at a 21st century Egyptian revolution.