Brazil's Amazon city of Manaus sees surge in violence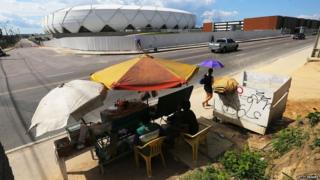 Brazilian police in the northern city of Manaus are investigating a wave of 35 killings reported at the weekend.
They began after a police officer was shot dead outside a bank. Several killings happened at almost exactly the same time, suggesting co-ordination.
Officials are investigating whether they may be part of a drug gang war or the result of police officers avenging the death of their colleague.
There are normally between two and three murders a day in the city.
The nature of the shootings has raised suspicions of police involvement.
Local officials say that another possible explanation could be local drug gangs settling scores.
Manaus - the capital of Amazonas state - was one of the host cities for the 2014 World Cup and will host football matches during the 2016 Olympic Games.
Gun crime in the country is at its highest in 35 years, according to a recent UN report.
Using the latest data available, it found that 42,000 people were shot dead in 2012.