Mexico vigilante boss Mora held on suspicion of murder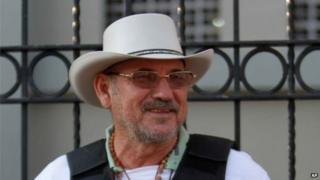 Mexican security forces have detained one of the founders of a vigilante movement in the western state of Michoacan on suspicion of murder.
Hipolito Mora was arrested in connection with the murder of two other vigilantes on Saturday, officials said.
Mr Mora has denied any involvement in the killings.
The "self-defence" groups were created a year ago by locals who said the security forces had not done enough to protect them from drug cartels.
The groups have been growing in power and in January took control of a number of towns in Michoacan.
Heavily armed, they not only clashed with members of the Knights Templar drug cartel, which has its stronghold in the western state, but also with the security forces sent to disarm the vigilantes.
On 27 January, they signed an agreement with the government to join the official security forces.
Since then, they have been in de facto control of more than a dozen municipalities.
Rivalries
But in the town of La Ruana, Mr Mora and his supporters have been clashing with another vigilante leader and his followers.
The two men killed on Saturday reportedly belonged to this rival group. Their bodies were found in a lorry which had been set alight.
On Monday, hundreds of police and soldiers were sent to the town to break up a dispute between the two armed factions.
The BBC's Will Grant in Mexico City says the fear for the people of Michoacan is that the relationship between the different vigilante groups could deteriorate further and end in a cycle of violent retribution.
Local officials said they were "conducting mediation efforts to defuse the conflict".