Mexico 'Queen of the Pacific' sentenced to 70 months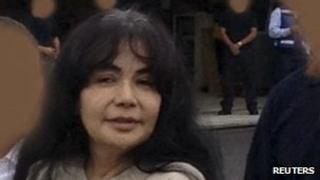 A woman who allegedly once was at the top of the Mexican drugs trade has been sentenced by a US court to 70 months in prison for trafficking cocaine.
Sandra Avila Beltran, known as "Queen of the Pacific", was initially accused of creating drugs smuggling routes up the Pacific coast into California.
But a deal with the prosecution ensured she faced a lesser charge.
Avila could walk free as soon as next week as she has already served more than five years in prison.
She was extradited to the United States in 2012, after spending nearly five years in a Mexican prison.
Mexican prosecutors accused her of having played a major part in the build up of the Sinaloa Cartel in the 1990s, one of Mexico's most powerful criminal organisations.
'Free on the weekend'
But in his Thursday verdict, US federal judge Michael Moore sentenced her for aiding a drug-trafficker to evade justice, in connection to a former lover, the Colombian Juan Diego Espinosa, known as "The Tiger", and one of the leaders of the Sinaloa cartel.
Avila Beltran smiled and hugged her lawyer when she heard the sentence in a Miami court.
"It is 70 months counting from 28 September 2007, when she was arrested in Mexico, therefore she could be set free on the next weekend," defence lawyer Stephen Ralls told reporters.
The next step for Avila Beltran's defence team is to ensure she is deported speedily to Mexico, when she is released from jail.
Another defence lawyer Howard Schumacher said his client was eager to be with her family in Mexico, where her mother was unwell.
Mexican police say Avila has close ties to infamous drug dealers, such as her uncle Miguel Angel Felix Gallardo, known as The Godfather, who is serving a 40-year prison sentence in Mexico for drug-related crimes.
Avila has maintained her innocence, saying she made her fortune selling clothes and renting property.
In February 2011, the director of the prison where she was being held in Mexico was sacked after it emerged that a doctor had been allowed into her cell to give her botox injections.