Sevilla footballers' valuables stolen from Colombia hotel room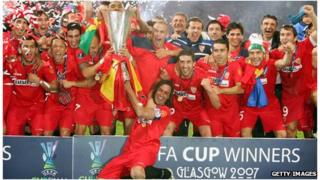 Players from the Spanish football club Sevilla say valuable items went missing from their hotel in Colombia while they played a match.
At least three of the Spanish stars' rooms in Medellin were burgled with a magnetic master key, officials say.
Club officials say possessions worth around 120,000 euros ( $160,000; £100,000 ) were taken.
The incident was reported to the authorities before the team left for its next fixture in Ecuador.
Sevilla are playing in the Euroamerican Cup, a friendly tournament.
'Left documents'
The robbery was discovered when the team returned from their match against Nacional de Medellin, at the Atanasio Girardot stadium, early in the morning on Wednesday.
"The thieves, who even took packed bags with all their contents, took their time to pick out documents and car and house keys to leave them in the rooms," a statement on Sevilla FC's website read.
The Spanish team is playing a series of friendly matches for the Euroamerican Cup from 20 July to 5 August.
The tournament also features Portugal's Porto FC and Spain's Atletico de Madrid defending Europe, against South American stars from Argentina's Estudiantes, Chile's Universidad and other sides from the continent.