Malcolm Shabazz killing: Two suspects remanded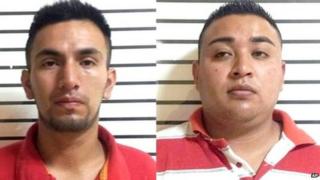 Two men suspected of killing Malcolm Shabazz, the grandson of US political activist Malcolm X, have been remanded in custody in Mexico.
David Hernandez Cruz and Manuel Alejandro Perez de Jesus were waiters at a Mexico City nightclub where Mr Shabazz was beaten to death on 8 May.
A formal order was made for their custody on charges of robbery and aggravated homicide, officials said.
Malcolm Shabazz was the son of one of Malcolm X's six daughters, Qubilah.
He was found with fatal wounds at the Palace Club bar in Plaza Garibaldi, a popular tourist area packed with bars and restaurants, and taken to a Mexico City hospital, where he died of his injuries a day later.
An immigration activist travelling with Mr Shabazz said they had been invited to a bar by a woman, while on a trip to press for greater rights for Mexican construction workers in the United States.
After the bar owner demanded they pay $1,200 (£780) for drinks and female companionship, a fight broke out, the activist said.
Mr Shabazz was later taken to hospital where he died of "blunt-force injuries".
Prosecutors say he had been punched, kicked and beaten with a stick or a bat.
Judge Hector Palomares formally ordered on Saturday that the two suspects remain in prison. Mexico's Attorney General is understood to be seeking three other suspects in connection with the attack.
When he was 12, Malcolm Shabazz was convicted of manslaughter and arson for a fire that killed his grandmother, Betty Shabazz, the widow of Malcolm X. He later served a jail term for attempted robbery.
At least 200 mourners attended his funeral in California on Friday. Community activist Abdel Malik Ali told Associated Press that Mr Shabazz had planned to build mosques and education centres across the US.
"He eventually took on a huge responsibility in embracing his family's legacy that's harder than anybody could ever imagine," Mr Ali said.
Malcolm X was a black power activist and leader in the Nation of Islam movement. Late in his life he split from the group and converted to orthodox Islam. He was shot dead at a political rally in New York on 21 February 1965.