Brazil's Maracana stadium 'privatised' ahead of World Cup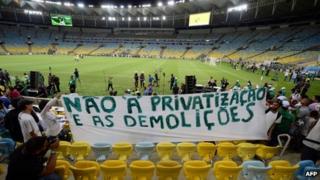 The authorities in Rio de Janeiro have given a consortium of private companies the right to manage Brazil's biggest and most famous football stadium, the Maracana, for the next 35 years.
The stadium will host the final match of next year's World Cup and the opening ceremony of the 2016 Olympics.
Among the winning bidders is one of the country's richest men, Eike Batista.
Campaigners have protested against the "privatisation" of the stadium after three years of costly renovation work.
The Brazilian government has spent more than $500m (£320m) of public money to revamp the stadium and prepare it for the World Cup.
Protestors gathered outside the Rio governor's palace on Thursday to show their anger that the stadium, which has always been in public hands, will now be controlled by private companies.
They were also protesting against the planned demolitions of a school, a historic building occupied by indigenous groups and the athletics stadium next to the Maracana.
'Perfectly legal'
The winning bid includes one of the companies of Mr Batista, IMX; Brazilian building giants Odebrecht and AEG, the Los Angeles-based entertainment firm, which manages several venues across the US and Europe.
The defeated bid was led by rival Brazilian building company OAS, the French company Lagardere and Stadion Amsterdam.
They have said they will appeal against the decision.
The concession was also based on a viability study conducted by bid winner IMX, a coincidence which critics say gave the company an advantage over its competitors, the BBC's Julia Carneiro in Rio de Janeiro reports.
But Rio governor Sergio Cabral said the bidding process "has been approved by the legal authorities" and was "perfectly legal".
The Maracana stadium was built as the world's biggest stadium to host the first post-war football World Cup, in 1950.
Some 200,000 are said to have watched the final match, in which Uruguay beat Brazil 2-1 to win their second title.
The stadium was revamped for the 2007 Pan-American games, at a high cost.
But the authorities then embarked on a new project when Brazil was awarded the right to host the 2014 World Cup.
Much of the old structure was demolished. Seating capacity has been reduced to 78,000, but players and journalists say the stadium is much improved, with more comfortable seats and better access for the public.
The Maracana was reopened on 27 April with a match between friends of former Brazilian world champions Bebeto and Ronaldo.
Its first official match will be on 2 June, between Brazil and England. The stadium is due to be used for three matches in the Confederations Cup in June, before next year's World Cup.