Venezuela election: Maduro victory margin narrows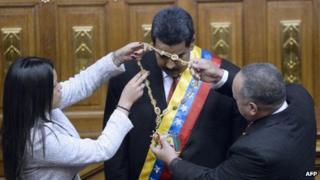 Venezuela's electoral council has amended the final result of the 14 April presidential election after finishing counting votes cast abroad.
It said that Nicolas Maduro won by 1.49 percentage points, or fewer than 225,000 votes. Earlier figures had shown a 1.8 percentage victory.
Opposition candidate Henrique Capriles has demanded a full recount, which the council has rejected.
Meanwhile, supporters and opponents of Mr Maduro clashed in the parliament.
A group of opposition congressmen said they were attacked during the plenary session in the National Assembly, with one of them, Julio Borges, appearing on TV with facial bruises.
The congressmen said they were protesting against attempts to block them from speaking unless they recognised Mr Maduro as the winner.
Government representatives also said they were attacked.
'Stolen presidency'
Figures released by the National Electoral Council (CNE) on Monday revealed that Mr Capriles had won 93.13% of the votes cast abroad.
With 99.79% of the votes counted, the margin between the two candidates had narrowed to 1.49 percentage points, it said.
The CNE declared President Maduro the winner on 15 April, after he had gained what it called an "irreversible majority". He was sworn in on 19 April.
Mr Capriles has demanded a vote-by-vote recount, but the CNE said it would be legally impossible to carry out.
It has, however, agreed to carry out a partial audit, which is expected to take until June. During the audit, 46% of the votes cast will be examined.
The CNE says the remaining 54% had been checked immediately after the election.
On Monday, Mr Capriles said Mr Maduro had "illegitimately stolen the presidency",
He has until 6 May to lodge his request with the Supreme Court contesting the election result.
Mr Capriles said he had "no doubt that this will end up before an international body".
Hunger strike
In the National Assembly, opposition politicians have complained about being "silenced" by the chamber President Diosdado Cabello.
"I am going to ask you: Mr Deputy, do you recognise Nicolas Maduro?" Mr Cabello asked one of them. "If you say no, you don't get to speak in the assembly."
Both Mr Capriles and Mr Maduro have urged their supporters to turn out for separate demonstrations on 1 May, sparking fears the two camps could clash.
On Monday, Mr Maduro said he had changed the route of his march because he "did not want problems".
But the opposition says it continues to be targeted by the government, citing the arrest on Saturday of retired Gen Antonio Rivero as proof.
The opposition politician has been charged with criminal instigation and criminal association, after prosecutors blamed him for outbreaks of post-election violence.
Relatives of Gen Rivero says he is on a hunger strike in protest.