Mexico thwarts 'plot to kill' Monreal brothers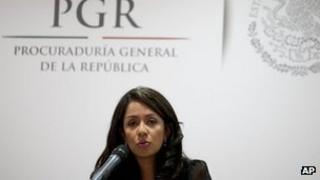 The authorities in Mexico say they have prevented the murder of two leftist legislators, brothers David and Ricardo Monreal.
A senior prosecutor said two armed men plotting the murder had been arrested at a hotel in Mexico City.
Mariana Benitez said the authorities had seized weapons, communications equipment and a vehicle.
No motive was given for the planned attack but the men had already confessed, she added.
Intelligence operations had uncovered the plot, adding that the suspects had been followed from an undisclosed location to Mexico City,
They were finally arrested at the hotel on Thursday morning, she said.
Ms Benitez said the legislators - a congressman and a senator - had been kept informed at all times and had not been at risk.
David Monreal is a senator for the Labour Party (Partido del Trabajo), part of a leftist coalition supporting Andres Lopez Obrador, the runner-up in last year's presidential election.
His brother Ricardo is a congressman for the small Citizen Movement (Movimiento Ciudadano). He was campaign manager for Mr Lopez Obrador.
They come from the central state of Zacatecas, which lies on key drug trafficking routes.
More than 60,000 people have died in drug-related violence in Mexico since late 2006 when the previous government deployed troops to take on the drug gangs.