Indigenous Colombians free soldiers held for 24 hours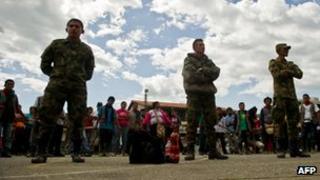 A group of indigenous Colombians has let go three soldiers it had been holding for 24 hours.
Members of the Nasa tribe surrounded the soldiers, whom they suspect of shooting dead one of their leaders.
The Nasa agreed to free them after the army promised to thoroughly investigate the death of Alvaro Chocue.
The soldiers said Mr Chocue was shot in crossfire between them and left-wing rebels, but the Nasa suspect he was killed at an army checkpoint.
Members of the Nasa indigenous guard formed a circle around the three soldiers in the town of Caldono, in south-western Colombia, where they held them for a night and a day.
There has been tension between the Nasa and the military since last July, when the indigenous group demanded that all armed men leave their land, be they left-wing rebels, right-wing paramilitaries, police or army.
After the army refused to leave, the indigenous guard dragged a group of soldiers from their post on Cerro Berlin mountain, prompting the deployment of riot police.
Cauca province is a rebel stronghold and the army says its presence there is key.
But the indigenous group says army checkpoints are a magnet for rebel attacks, heightening the chance of the Nasa being caught in crossfire.