Grenada holds general election amid economic trouble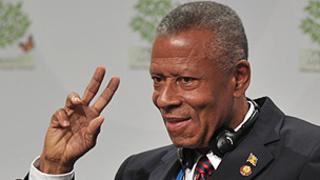 People in Grenada are voting in a general election overshadowed by an economic crisis.
Incumbent Prime Minister Tillman Thomas (National Democratic Congress) is facing a challenge by veteran New National Party leader Keith Mitchell.
Mr Mitchell is promising to lower Grenada's 30% unemployment rate, while Mr Thomas says he will boost tourism.
The Caribbean Development Bank recently warned Grenada that it had unsustainable debt levels.
The bank said Grenada needed to implement a raft of urgent measures to "anchor investor confidence".
The country has been struggling to recover from major destruction caused by Hurricane Ivan in 2004.
Dozens of people were killed and 90% of the island's buildings destroyed. Grenada's main export crop, nutmeg, was also devastated.
Mr Thomas has promised to boost agriculture and the renewable energy sector. Mr Mitchell says he will put job creation first.
Fifteen seats of the 28-seat bicameral parliament are up for election.
Legislators for the remaining 13 seats are appointed by the governing and opposition parties.