Venezuela VP Maduro reads out 'Chavez letter' at summit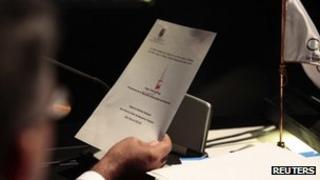 Venezuelan Vice-President Nicolas Maduro has read out a letter he says was written by the country's ailing President, Hugo Chavez.
The Venezuelan leader has not been seen or heard in public since he had cancer surgery almost seven weeks ago.
Mr Maduro read from the typed letter, which was signed in red ink, at a regional summit in Chile.
Mr Chavez purportedly wrote that was sorry he could not attend the meeting because he was battling for his health.
The letter also celebrated Cuban President Raul Castro's assumption of the rotating presidency of the Community of Caribbean and Latin American nations (Celac).
"After 30 years of resisting this criminal imperial blockade, Latin America and the Caribbean is saying to the US, in one voice, that all your attempts to leave out Cuba are failing," it added.
'Bare-faced lies'
Celac was created two years ago with the aim of fostering regional ties. It comprises all countries of the Americas and the Caribbean, except the United States and Canada.
President Chavez has in the past described the bloc as a counter to US influence in the region.
Mr Maduro read from the letter, which contained flowery language and literary quotes, for about 15 minutes.
Speculation about Mr Chavez's health is rife, with Venezuela's main opposition leader Henrique Capriles on Sunday accusing the government of telling "bare-faced lies about the situation the president is in".
"The government is lying right to your face, telling bald-faced lies, because why would a person who can sign letters, who can tell jokes, not speak to the nation?" Mr Capriles asked.
On Saturday, Venezuelan Information Minister Ernesto Villegas said President Chavez "had overcome" the respiratory infection he had contracted following his fourth cancer surgery on 11 December.
He said Mr Chavez was making "favourable" progress.
Re-elected in October, President Chavez missed his own inauguration for a fourth term in office, which had been scheduled for 10 January.
Venezuela's Supreme Court ruled he could be inaugurated at a later date, but the opposition says that in the continuing absence of Mr Chavez, the speaker of the National Assembly should take over and elections called within 30 days.