Venezuela President Hugo Chavez in 'favourable' health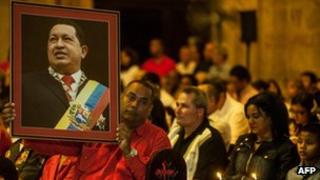 The health of Venezuela's President Hugo Chavez, who missed his inauguration last week, has been improving, the government says.
His lung infection was "under control" and his condition was developing favourably, although he still needed help breathing, a statement said.
Mr Chavez is recuperating in a Cuban hospital where he had his fourth operation for cancer last month.
The Venezuelan leader won his fourth presidential term in October 2012.
The 58-year-old had been due to be inaugurated on 10 January, but the swearing-in ceremony has been indefinitely postponed.
"Despite his delicate state of health following the complex surgical operation on 11 December, over the past few days the general medical evolution has been favourable and the president is strictly following medical treatment," said Information Minister Ernesto Villegas, reading from a statement.
"The respiratory infection is under control, although the Commander President still needs specific measures to deal with insufficient breathing."
Mr Villegas, speaking on state television on Sunday, said that the president "is conscious, communicating with his family, his political team and the medical team treating him".
Mr Chavez has not been seen in public for a month and earlier this month officials said he had suffered complications as a result of a lung infection.
Venezuela's Supreme Court ruled that Mr Chavez, who has been in office since 1999, could be sworn in for another term as president when he recovered and returned to Caracas.
Opposition leaders have demanded more information and clarity about who is running the country.
Senior leaders including Vice-President Nicolas Maduro, the head of the National Assembly Diosdado Cabello, and Oil Minister Rafael Ramirez have been travelling to and from Cuba in recent weeks.
It has never been disclosed what type of cancer Mr Chavez has.