Haiti three years on: Your stories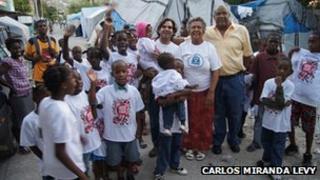 Haiti is marking the third anniversary of the devastating earthquake in which 250,000 people died.
More than 300,000 Haitians remain in temporary shelter and President Michel Martelly has said international aid to help the country recover is not working.
Here, people affected by the quake and those who are aiming to provide relief describe the situation in Haiti.
Carel Pedre, broadcaster
Professionally my life hasn't changed. I'm still broadcasting my television and radio shows.
But in terms of my audience, which has grown, I feel I need to keep them informed of what's happening and how they can help to change the situation - I feel like a lot of young people look up to me now.
Before the earthquake I felt I would need to leave Haiti, but now that urge is to stay here. I try to keep the hope alive that things are getting better and to show the world that Haiti is recovering and moving forward.
This week on my show we were debating where all the money and aid from the fundraising went and we realised how naive that hope we had straight after was.
Three years on we are back where we were before - the opportunity for a job or education is still the same as it was. For me that is sad.
It's hard for me because three years on we've only just got a building code announced. It's taken too long. What will happen to everything built in the last three years if there is another earthquake?
The big problem is that we need a plan but we don't seem to have one. All those displaced people living under plastic - there's no plan for them. They have no idea if they'll still be there on the fourth anniversary.
The thing we need is a shift in the conscience of the Haitian people. We all have the same dream for Haiti, we all have to contribute to making that change.
I'm 30 in two months, I have two daughters. What hope can I offer them? The country needs to think about what opportunity - for an education, a job, the ability to buy food - it offers the young people. We need to help people to be self-sufficient and to think of a better Haiti in 20 or 30 years' time.
Carlos Miranda Levy, social entrepreneur
In the capital Port-au-Prince most of the rubble left after the quake has been removed. The city appears to be back to normal with the same traffic jams and people trying to make a living.
The trouble is that buildings are being rebuilt as they were before the earthquake. People have no awareness of reconstruction techniques and there has been no national campaign to introduce building regulations that would make buildings safer.
Many locals are constructing their houses from scratch with no thought about safety.
Buildings are likely to crumble like Lego bricks should the country experience future quakes. Often people start building their own houses but have no money to complete them.
It's shameful that billions of dollars have been donated to Haiti and yet thousands are still having to live in tented villages and under sheets. Money has been used to supply solar powered lights and better latrines but surely it should also be used to help people who have lost their homes.
Officials are trying to make people move to settlements on the outskirts of Port-au-Prince but they don't want to go. They want to live in the city; that's where the markets are and the money is.
These people are not refugees, they are survivors. They are carpenters, bakers and secretaries; just because they've lost their business doesn't mean they've lost their skills.
I recently visited a high school and was shown a car that the students had built from scratch. They'd researched the whole process on the internet, it was incredible. The kids love going to school and even attend on Saturdays to play basketball.
Haitians are very resilient people and for decades have felt excluded. I've been out for meals with locals and have discovered people are too ashamed to reveal that they have lost their homes. They have to live in tents as they are unable to rebuild.
People need to have proper new homes rebuilt but three years on they are still having to live in tents - unfortunately I can't see this situation changing.
Luke Renner, founder firesideinternational.org
When the quake happened I was living and working Haiti with my family. We no longer do, but what I've seen is that the Haitians we built partnerships with have really risen to the challenge.
It's really taught me that the best people to solve a situation are those who stand to benefit most or be worst affected by the solution.
It faces the same challenges as other countries in a similar financial situation. The biggest is education, in particular illiteracy which is what we're trying to tackle. There are lots of challenges involved, especially given the infrastructure issues.
It's encouraging that there has been a focus on rebuilding with better techniques to resist future quakes and not just throwing up the same buildings again.
There's some really exciting things happening telling the story of Haiti from their own perspective rather than that of outsiders. They're really committed, focused and active and overwhelmingly I see positives three years on.
It's a strange dichotomy of a horrible thing presenting great opportunity. The quake turned everyone's head to face the same way and the Haitian people have picked up and moved on. They revere the day but it's not an attitude of living in that moment.
It's not all hunky dory, but it's not doomsday. Despite the challenges, spirits are high.