Chavez illness: Warning of 'Venezuela democracy threat'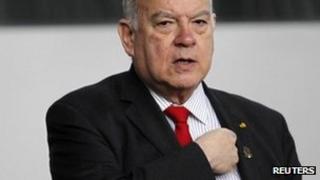 Venezuela's opposition has issued a warning about a "threat to democracy" if President Hugo Chavez is not sworn in as scheduled on Thursday.
In a letter to the Organisation of American States (OAS), the coalition said his absence would be "a serious constitutional violation".
It is unlikely that Mr Chavez, who is in Cuba after a cancer surgery, will be able to attend his inauguration.
Government officials say it is only a formality, as he is already incumbent.
The letter warns the OAS that the situation in Venezuela could represent a violation of the body's charter.
The opposition's move came as President Chavez' supporters prepare for a major rally to mark the start of his fourth term.
On Monday, the Venezuelan Catholic Church had also said it would be a morally unacceptable violation of the constitution to allow Mr Chavez to remain in power after missing his inauguration.
The opposition says that if Mr Chavez does not take the oath of office, the Speaker of the National Assembly, Diosdado Cabello, should act as caretaker president until new elections are held.
In the absence of President Chavez, Mr Cabello and Vice-President Nicolas Maduro are in effect running the country.
The head of the Venezuelan Conference of Bishops, Diego Padron, said Mr Chavez had to attend his inauguration when his term ended on 10 January.
But the 58-year-old Venezuelan leader, who has been in power since 1999, has not been seen in public since his latest operation last month, and government officials have acknowledged that he has suffered complications caused by a lung infection.
The president's condition was "stable", and he was "responding to the treatment", said Information Minister Ernesto Villegas in his latest update.