St Vincent and the Grenadines country profile - Overview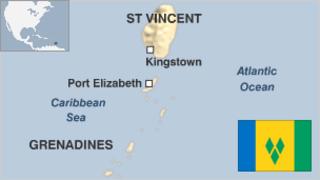 The multi-island country of St Vincent and the Grenadines is a land of contrasts. St Vincent - the main population centre - is mountainous and lush. Rainforests thrive in the interior and La Soufriere, an active volcano which last erupted in 1979, dominates the north.
Of the many islands and cays that make up the Grenadines, Mustique, Palm Island and Union Island are haunts of the rich and famous - offering yachting, diving and fine beaches.
These playgrounds are worlds away from the many Vincentians who are without jobs. High unemployment has prompted many to leave the islands.
Like other countries in the Windwards chain, St Vincent and the Grenadines has tried to reduce its reliance on banana exports after the European Union phased out preferential treatment to producers from former colonies.
Efforts to diversify the economy have been partially successful. Tourism is said to have great potential and there are plans to build an international airport. But the banana crop remains vital, accounting for around a third of export earnings.
Like many other Caribbean countries, St Vincent and the Grenadines has fallen victim to drug-related crime. Efforts have been made to tackle marijuana cultivation.
The country has taken steps to curb money-laundering, and a Paris-based organisation dedicated to tackling the issue has removed St Vincent and the Grenadines from its list of non-cooperative countries.