Paraguay profile - Overview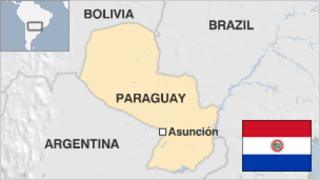 Paraguay experienced more than three decades of dictatorship under Alfredo Stroessner, who was ousted in 1989, but the end of his iron-fisted rule did not bring political stability.
Factional splits led to the assassination of a vice-president, the resignation of a president and an attempted coup.
Stroessner's party, the National Republican Association-Colorado Party, survived his departure and remained in power until 2008, when it was was defeated by the centre-left Patriotic Alliance for Change led by Fernando Lugo.
However, the Colorado Party returned to power in 2013, after Congress controversially impeached President Lugo over the mishandling a land eviction in which police officers and peasant farmers were killed.
More than 80% of Paraguayans are mestizos - people of mixed Spanish and native American descent.
The vast majority of the population speak the indigenous language Guarani as well as Spanish, whereas in the rest of Latin America non-indigenous people rarely know the pre-colonial languages.
With few mineral resources, Paraguay's economy revolves around agriculture - although the manufacturing and pharmaceutical sectors are expanding.
The 1990s saw slow, steady growth, but by 2002 the economy was in serious trouble, partly because of a financial crisis in neighbouring Argentina.
Emergency loans - conditional on economic reforms - were negotiated with the IMF, and the country has enjoyed growth rates much higher than the rest of Latin America in recent years, despite the worldwide slowdown.
Problems with expansion
The Triple Frontier region, where Paraguay meets Argentina and Brazil, has long been associated with drug-smuggling and other contraband trade.
It is also home to a large Arab community, and the United States and independent reporters have identified it as a source of funding for Islamic militant groups, in particular Lebanon's Hezbollah and the Palestinian Hamas - although Argentina, Brazil and Paraguay reject the allegation.
The commercialisation of agriculture, population growth and forest clearances have led to a dramatic increase in the number of landless families. This has boosted migration into urban areas and shanty towns have burgeoned. The landless peasants' movement has become politically active in recent years.
Much of the north-west is taken up by the Chaco, a vast and largely uninhabited plain. Paraguay and Bolivia fought over it in the 1930s; the war left 100,000 dead.