Peru profile - Overview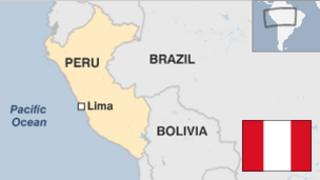 Peru's rich and varied heritage includes the ancient Incan capital of Cuzco and the lost city of Machu Picchu. The country boasts spectacular scenery, including Lake Titicaca, the world's highest navigable lake.
A growing number of visitors are being drawn to its variety of attractions, such as its archaeological treasures, the Andes mountain range and the Amazon rainforest, which makes up about half the country.
It is rich in copper, silver, lead, zinc, oil and gold.
The country experienced an economic boom in the 2000s, and in 2011 Peru was said to have one of the world's fastest-growing economies.
Foreign investors, attracted by the government and encouraged by favourable conditions, have been keen to get involved in exploiting the country's mineral wealth.
But the authorities have faced opposition in rural areas to the extractive projects that local residents say will cause pollution, use up scarce water supplies and fail to lift them from poverty.
Indigenous groups in the Amazon and Andean mountains argue that the mines, dams and oil fields are destroying their ancestral lands and they have become more assertive in demanding greater recognition and protection.
The country is still trying to come to terms with the trauma of a two-decade conflict - roughly from 1980 to 2000 - between the state and the leftist guerrilla groups, the Shining Path and the Tupac Amaru Revolutionary Movement.
The warfare is thought to have claimed nearly 70,000 lives, most of them Andean peasants. Its ruthlessness was in large part due to the fanatical following of the leader of the Shining Path, Abimael Guzman, whose capture in 1992 in effect disbanded the guerrilla movement.
However, the Shining Path continues to have a small political following.
And offshoots of the group are said to be involved in the cocaine trade.
The United Nations believes that Peru has become the world's biggest producer of coca leaf, and now rivals Colombia for cocaine production.
Critics of the war on drugs argue that squeezing production in one country - such as Colombia - just makes the traffickers transfer their operations elsewhere, such as Peru.
While drug trafficking has made a major contribution to the economy - almost 17% of the country's gross domestic product in 2009, according to the Peruvian government - environmentalists are concerned about the impact coca growing and cocaine production is having on the rainforests, both because of deforestation and the dumping of the chemicals involved in the drug's manufacture.
Peru has had periods of military rule but in recent decades its governments have been democratically elected and its leaders held to account for their actions. Alberto Fujimori, who was president from 1990 to 2000, is now serving a 25-year prison sentence on human rights abuse charges.