Panama profile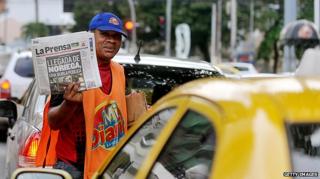 Panama's media are free to present news and comment.
According to Reporters Without Borders: "Panama stands out as an exception in Central America, which is notoriously dangerous. Cases of assaults against journalists are extremely rare."
In 2011, however, leading news media launched a campaign in defence of freedom of expression, citing a growing number of threats and attacks on journalists. Panama "maintains a harsh legal environment" for journalists, says US-based Freedom House.
Broadcasting is dominated by the private sector. Corporacion Medcom operates the most-popular TV stations. There are around 100 radio stations and several TV networks.
More than 1.5 million Panamanians, or 43% of the population, were online by December 2011. There are around one million Facebook users (Internetworldstats.com). Internet access is unrestricted, says Freedom House.
The press
Television
Radio