Guatemala profile - Leaders
President-elect: Jimmy Morales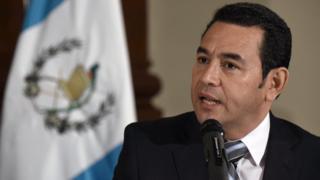 Jimmy Morales, a political newcomer, was elected president of Guatemala with 72% of the vote in run-off polls held in October 2015.
A former TV comedian with no experience in government, Mr Morales defeated the former first lady, Sandra Torres, who is seen by many as part of the country's unpopular political elite.
The election took place a month after the resignation and arrest of President Otto Perez Molina, who was accused of leading a corrupt network of politicians and customs officials.
President: Alejandro Maldonado Aguirre
Vice-President Alejandro Maldonado was sworn in as president in September 2015 to serve out the remaining term of his predecessor, Otto Perez Molina, who had resigned over corruption allegations.
A former diplomat and judge, Mr Maldonado, 79, was set to stay in office until presidential elections.