Haiti profile - Leaders
President: Michel Martelly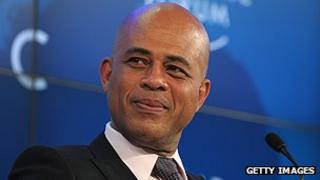 Michel Martelly, who first made his name on the Haitian music scene, was inaugurated as president in May 2011 after coming out of nowhere to win 68% of votes in the run-off of a hotly-contested presidential election in March.
He ran an unusually slick campaign, enlisting the help of election consultants to project a more serious image than that of the flamboyant musician who made his name playing compas dance music in the 1980s.
Mr Martelly had eschewed any involvement in the growing opposition to the Duvalier regime in the 1980s, and only became politically active in opposition to President Jean-Bertrand Aristide, Haiti's first freely-elected president in 1991.
Sweet Micky
His shows were patronised by some leading figures in the violent military dictatorship that ousted Mr Aristide later that year, which is when he acquired the nickname of "Sweet Micky". After Mr Aristide's return to Haiti in 1994 Mr Martelly largely concentrated on his musical career.
Mr Martelly's pledge to rebuild a country still reeling from the after-effects of the devastating January 2010 earthquake appealed to the poor and unemployed, and he became especially popular with younger voters.
However, he courted controversy in 2012 by advocating the re-establishment of Haiti's army, which was scrapped in the 1990s because of its history of coups and violence.
He faced protests in October 2012 at enduring corruption and his failure to alleviate poverty. These resumed in late 2014 with greater ferocity, including opposition accusations that the president was refusing to negotiate on a new election law in order to rule by decree.
The son of an oil company executive, Mr Martelly was educated at a prestigious Roman Catholic school in Port-au-Prince and attended junior colleges in the US, although he never graduated.
Prime Minister: Evans Paul
President Martelly appointed Evans Paul prime minister in response to a wave of protests in late 2014 demanding his resignation.
A journalist, veteran of the democracy movement under the Duvalier dictatorship, and an ally of former president Jean-Bertrand Aristide, Mr Paul served as mayor of the capital, Port-au-Prince, for two brief terms.
He was the presidential candidate of the Democratic Alliance in the 2006 elections, polling less than 3% of the vote.
His mandate is to run a government of national reconciliation including opposition ministers, in order to end the protests and find a way out of political deadlock, and to oversee delayed parliamentary and presidential elections between August 2015 and January 2016.