Haiti country profile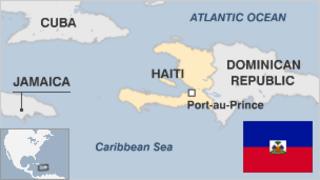 Haiti became the world's first black-led republic and the first independent Caribbean state when it threw off French colonial control and slavery in the early 19th century.
But chronic instability, dictatorships and natural disasters have left it as the poorest nation in the Americas.
UN peacekeepers were deployed in 2004 to restore order after an uprising, and more than 10,000 uniformed personnel remain on the ground. The mission has drawn controversy, including allegations of excessive force.
Moreover, many Haitians are struggling with the legacy of the magnitude 7.0 earthquake which devastated the capital, Port-au-Prince, in January 2010. More than 250,000 people were killed. Hundreds of thousands more were left homeless, and many of them still live in tent cities.
These woes have been compounded by a subsequent cholera epidemic which has killed more than 7,000 people.
Billions of dollars in aid, pledged to Haiti after the earthquake, have been slow to arrive amid donors' concerns about corruption.
Poor infrastructure is another obstacle to investment and environmental degradation is a major concern. But officials have touted Haiti's tourism potential and there has been some success with exports of crops, including mangoes.
Political volatility, civil unrest and crime pose serious challenges to development. And the huge wealth gap between the impoverished Creole-speaking black majority and the French-speaking minority remains unaddressed.
With unemployment running at around 40%, many Haitians seek work and a better life in the US or other Caribbean nations, including the neighbouring Dominican Republic, which is home to hundreds of thousands of Haitian migrants.
'Independence debt'
Haiti's independence came at a cost. It had to pay reparations to France, which demanded compensation for former slave owners. The 19th century "independence debt" was not paid off until 1947. There have been recent calls for France to repay the money.
Between 1915 and 1934, the US occupied Haiti with the aim of protecting American assets and stemming German influence in the region.
Haiti achieved notoriety from the late 1950s during the brutal dictatorships of the voodoo physician Francois "Papa Doc" Duvalier and his son, Jean-Claude, or "Baby Doc". Tens of thousands of people were killed under their 29-year rule.
The country moved towards democracy in the 1990s, but coups and rebellions continued to plague political life. Twice President Jean-Bertrand Aristide, a former priest, was overthrown in a 1990 military coup and again by a popular uprising in 2004.