Cuba jails 12 ex-officials in corruption case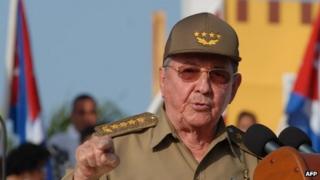 A court in Cuba has sentenced a dozen people who worked in a state company to prison terms ranging from four to 12 years for corruption.
The defendants committed their crimes during a project to expand a nickel and cobalt processing plant, the Communist Party newspaper Granma reported.
Among those sentenced were three former deputy ministers.
President Raul Castro has said that corruption poses the most serious threat to Cuba's socialist system.
The 12 defendants worked for the ministry of basic industry and the state enterprise Cubaniquel.
'Implacable'
They were found guilty by a court in Holguin of corruption during the awarding of contracts and implementation of the project to expand a nickel and cobalt processing plant in Moa.
Nickel is Cuba's main export.
Alfredo Zayas, who led the company and served as a deputy minister from 2004 and 2007, was given the longest sentence of 12 years.
Another former deputy minister, Ricardo Gonzalez, who chaired the board of directors, was jailed for 10 years.
Antonio Orizon de los Reyes, a deputy minister from 1980 to 1999 and who was on the project's committee, was given an eight-year term.
The nine remaining defendants, who had different roles in the expansion project, were jailed for between four and seven years.
President Castro, who officially took over from his brother Fidel in 2008, has stepped up the fight against corruption at the same time as introducing limited economic reforms.
He told delegates at a conference of the ruling Communist Party in January that he would be "implacable" against those guilty of corruption.