Peruvian Shining Path rebels kill soldiers in ambush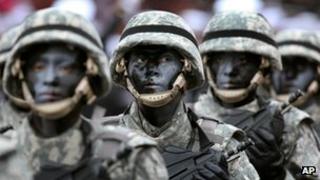 Military officials in Peru say rebels have killed five army officers in the jungle region of Junin, some 300km (190 miles) east of the capital, Lima.
Five other soldiers were wounded in the night time ambush in an area where Shining Path rebels operate.
Remnants of the Maoist movement are now thought to be allied with drug traffickers in Peru's coca-growing heartland.
The United States say Peru is now the world's biggest producer of cocaine.
Much of the illegal drug is produced in the Ene-Apurimac valley in southern Peru - known as VRAE - a stronghold of the rebel group.
In a statement, the government says the military and police "have intensified operations in the area to capture terrorists involved in the drug trade".
Ill-equipped troops
The Shining Path, or Sendero Luminoso, started a decade-long insurgency in 1980, in which almost 70,000 people were killed.
The rebel group suffered a severe blow when its leader, Abimael Guzman, was captured in 1992.
The Shining Path is now confined to jungle areas where they continue to stage attacks on the security forces.
The BBC's Mattia Cabitza in Lima says President Ollanta Humala has made bringing peace to the VRAE one of his top priorities since coming to office in July 2011.
But his government has been criticised for sending ill-equipped troops to fight.
Earlier this year, in May, Interior Minister Daniel Lozada and Defence Minister Alberto Otarola resigned after a failed security operation against Shining Path rebels led to an outcry.
Both had been criticised after at least nine soldiers and police officers were killed in clashes with the rebels.
There was particular outrage after the father of one dead officer was left to recover his body from the jungle.