Tropical Storm Ernesto hits Mexico's Gulf coast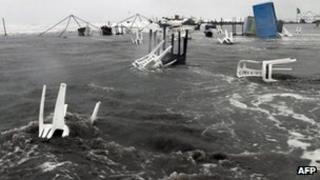 Tropical Storm Ernesto has hit Mexico for a second time, bringing strong winds and flooding to several areas of the southern Gulf coast.
The storm, downgraded from a hurricane, has maximum winds of 110km/h (70mph).
Ernesto hit Mexico on Tuesday after drenching parts of Belize, Guatemala and Honduras.
After blowing across the Yucatan Peninsula and open sea, it made landfall in Mexico again near the port of Coatzacoalcos, in Veracruz state.
Coastal villages have flooded and thousands of emergency shelters have been prepared in Veracruz.
The states of Tabasco, Puebla and Chiapas have also been prepared for heavy downpours.
A total of 11 states are on alert for Ernesto, Mexican media reported.
The storm is expected to lose strength as it moves inland.
State oil company Pemex said it was monitoring Ernesto but so far there were no reports of disruptions to its installations.
Coatzacoalcos, which is one of Mexico's key oil ports, was closed on Wednesday as a precaution.