Peruvian police seize $2.3m in fake bills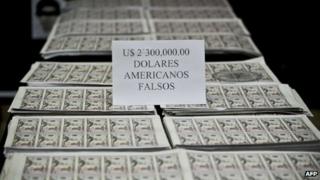 Police in Peru say they have seized $2.3m (£1.5m) in counterfeit notes.
They say the notorious Quispe Rodriguez family clan is behind the production of fake currency.
Peruvian police chief, Raul Salazar, said the gang was planning to smuggle the counterfeit $50 bills into the United States, hidden inside Peruvian souvenirs.
The US says Peru is the largest foreign producer of counterfeit dollars.
This year alone, Peruvian police say they have seized $17m (£11m) in forged currency.
Mr Salazar said a man accused of belonging to the Quispe Rodriguez family clan, Luis Alfredo Obando Paredes, was also arrested.
The money and material for the production of fake bills, such as special paint and paper, were seized at a house in the capital, Lima.
Other relatives were arrested two weeks ago with millions of fake dollars, euros and a smaller amount of soles, the Peruvian currency.
The authorities say the family gang is led by Joel Rodriguez Quispe, known as Nique, who is in jail and is being prosecuted.
The BBC's Mattia Cabitza in Lima says the techniques used to send the fake money abroad, hiding the notes in unusual places to avoid detection, are similar to those employed by drug traffickers.