Bodies of US climbers found on Peru mountain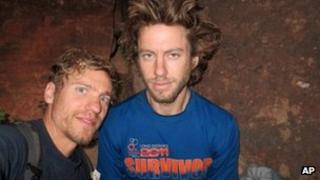 The bodies of two missing US climbers have been found on Mount Palcaraju in the Peruvian Andes, rescuers say.
Gil Weiss, 29, and and Ben Horne, 32, are believed to have fallen about 300m (1,000ft) from a ridge on the glacier-capped mountain.
The bodies were spotted by helicopter but have not yet been recovered due to treacherous weather conditions.
Rescue team co-ordinator Ted Alexander said they had been on the way down from the summit when they fell.
"They did summit and they got into trouble on the way down," he said.
"What led to the fall, I cannot tell you now."
The two climbers had been tackling the 6,000m western summit of the Palcaraju in the Cordillera Blanca mountain range.
They set out on 11 July for the climb that should have lasted seven to 10 days. Their families contacted Mr Alexander after 13 days passed with no word from them.
Both Mr Weiss, of Queens, New York, and Mr Horne, of Annandale, Virginia, were experienced climbers.
Mr Weiss had visited the Cordillera Blanca range on previous occasions.
Six other mountaineers have lost their lives in the range so far this season.