Mexico mine blast kills seven from same Coahuila family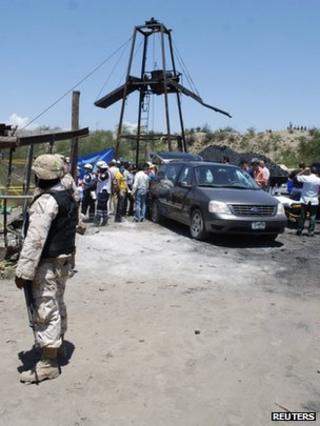 Seven people have been killed in a gas explosion in a coal mine in the northern Mexican state of Coahuila.
Rescue workers said they had been able to retrieve the bodies of the miners, all of whom came from the same family and worked in the mine in Muzquiz.
Explosions caused by methane gas are one of the main dangers in small-scale mining.
In 2006, 65 miners died in an explosion at a mine in Pasta de Conchos, also in Coahuila.
Ventilation
Police official Francisco Martinez said that "all indications are that the explosion was caused by a pocket of accumulated gas".
Juan Antonio Ibarra, of the Coahuila emergency services, said the explosion had happened some 75m (246ft) underground.
He said the rescue operation had to move slowly because of the need to ventilate the mine to prevent another explosion.
The Mexican labour ministry said the mine, which is owned by El Progreso mining company, had been fined over lax security in the past.
El Progreso has not yet commented on the accident.
According to a pressure group founded by relatives of mining victims, 30 people died in accidents in Coahuila's coal mines in 2011.
The group, Relatives of Pasta Concho, says at least 50,000 people work in Coahuila's coal mines, many of which are unregulated and lack the necessary security measures.