Honduras profile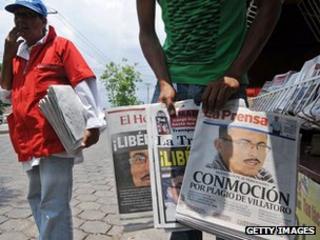 Since the 2009 coup, Honduras has been one of the western hemisphere's most dangerous countries for journalists.
Twenty-six journalists have been killed since then, US-based Freedom House reported in 2013.
Harassment against broadcasting outlets has included assaults, threats, blocked transmissions and power outages, says Freedom House.
Media freedom is restricted by punitive defamation laws, and reporters tend to exercise self-censorship. Ownership of media outlets is concentrated in the hands of a few powerful business interests, Freedom House notes.
There were 1.32 million internet users by June 2012 (Internetworldstats). Facebook is the leading social network.
The press
Television
Radio