Guatemala prison director 'killed by prison gang'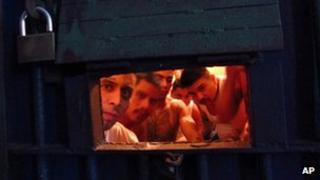 Guatemalan President Otto Perez Molina says prison gangs are behind the murder on Wednesday of a prison governor in the capital, Guatemala City.
Director of El Infiernito prison Amilcar Corado was ambushed by four gunmen on motorcycles.
Mr Corado had been in put in charge of the prison 15 days ago and had introduced new disciplinary measures.
Prison gangs often have associates on the outside, allowing them to continue committing crimes from behind bars.
Mr Corado had taken over control of the high-security El Infiernito jail after serving as governor in a prison in the capital.
El Infiernito, in the south of Guatemala, houses some of the country's most dangerous criminals.
Interior Minister Mauricio Lopez said Mr Corado had implemented new disciplinary measures in the jail.
"There are drug-traffickers and gang leaders from the Mara Salvatrucha (street gang) there," Mr Lopez said.
But Mr Lopez said the prisoners were wrong if they thought the authorities would back down after Mr Corado's murder.
Guatemalan prisons are overcrowded and in many, prisoners have taken control of many of the day-to-day running of the jails.