Brazil profile - Media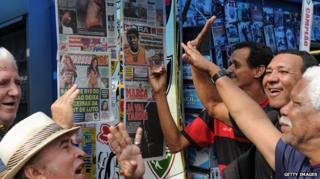 South America's biggest media market is home to thousands of radio stations and hundreds of TV channels. TV has long been the most influential medium.
Media ownership is highly concentrated. Domestic conglomerates such as Globo, Brazil's most-successful broadcaster, dominate the market and run TV and radio networks, newspapers and pay-TV operations.
Brazilian-made dramas and soaps - known as telenovelas - are aired around the world. Game shows and reality TV attract huge audiences.
The constitution guarantees a free press and there is vigorous debate in the media about politics and social issues.
However, politicians and powerful business owners have used defamation laws to stifle critical reporting, says the Committee to Protect Journalists (CPJ).
The CPJ says that in 2015 Brazil was the deadliest country in the Americas for journalists.
By 2016, 139 million Brazilians were online (Internetlivestats.com). Brazilians are among the world's top users of social media; Facebook is the leading social network.
Internet access is not generally restricted. However, the judiciary has grown "increasingly aggressive" in its attempts to regulate content, says Freedom House.
The press
Television
Radio
News agencies/internet