Peru seeks place on world cultural map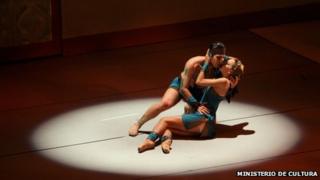 The opening drum roll set a suitably grand tone to mark Peru's artistic ambitions. On cue, the curtain was raised to reveal gigantic sets and a stage rapidly filled with hundreds of dancers and singers.
They were performing the world premiere of Akas Kas, a Peruvian opera-ballet, in the newly-opened Grand National Theatre in Lima.
With almost 1,500 seats, this is Peru's biggest performing arts centre, and is now the much-awaited home of the country's Symphony Orchestra, National Ballet and National Chorus, as well as three other companies.
Set to music by the Peruvian composer Nino Valerde, Akas Kas takes place in ancient idyllic times, during the Moche culture in northern Peru. It tells the love story of a young and beautiful girl, Mishak, and Huashmin, a strong warrior.
"This is the Moche Aida," said a member of the audience, in reference to the 19th Century Italian opera about the Egyptian Pharaohs.
Like Aida, Akas Kas ends in tragedy, and is filled with jealousy, treason and human sacrifices. And like in Verdi's opera, the music is intended for the grand theatre: brass and percussion players hardly get to rest throughout the piece.
But it is also filled with poetry and lyrical notes. A gentle violin plays solo as the two lovers court each other on stage. It is with this music that Peru also wants to enchant the whole world.
"This theatre has been a dream come true," says Rina Barrantes, who plays Mishak.
"It gives us the opportunity to showcase what we can do," she says, "and a chance for all Peruvians to see our productions in this country."
In the main foyer, one can soon understand what Barrantes is talking about. Posing in front of the words Gran Teatro Nacional - its golden letters hanging on the wooden wall - six-year-old Alejandra tiptoes like a ballerina as her mother takes her photo.
"I used to study ballet," says the young girl, "but I gave it up last year to do swimming instead. After seeing this performance, I want to study ballet again."
Arts lovers
Peru is not renowned for its excellence in classical European arts. Some Peruvians, most notably the tenor Juan Diego Flores - a household name at London's Covent Garden and New York's Met - have made it big internationally.
But they are the exception. Juan Carlos Adrianzen, who is in charge of programming at the new theatre, says Peru does not have enough venues to nurture and showcase its home-grown talent.
That is, "until now," he says with great pride.
"We are putting ourselves on the map. Theatres in Lima can seat 200 to 300 people. So naturally we never had room for many artists who would go to Santiago and Buenos Aires, but not come to Lima.
But, he says, with the new theatre, "we can finally do large-scale productions".
Lima's cultural offer has been growing rapidly, matched by the economic prosperity the country has been enjoying in the last decade.
Having spent almost a whole generation locked in their homes and afraid to go out, during the bloody internal conflict of 1980-2000, Peruvians are also taking back their public spaces and experiencing the arts once again.
"In the 19th Century, the operatic scene in Lima was enormous," says Miguel Molinari, the director of Symphony for Peru, a social project that teaches children how to play an instrument to keep them off the street and violence.
"Before opening in the United States, the premiere in the Americas of Lucia di Lammermoor (by Donizetti) was in Peru, as well as many other operas.
"But after the war with Chile (1879-1893), the appreciation for the arts in this country deteriorated."
Mr Molinari, who also presents a popular daily radio show about opera, believes that the Grand National Theatre can help to bring back this lost tradition, as well as make Peru an obligatory stopover for touring symphonies or world-renowned singers.
Magic of music
Much will depend on how well the government makes use of the costly new venue, whose state-of-the-art technology rivals theatres in New York and London.
But unlike those two established arts scenes, Mr Molinari says that Peruvian audiences will have to be encouraged to come by discounted tickets and through public awareness campaigns.
Such a focus on arts may appear extravagant in a country where one third of the population still lives in poverty.
But music lovers like Mr Molinari believe the Grand National Theatre is money well spent, especially because of the many social and income inequalities that still exist in Peru.
"The beauty about music is that it's universal: anybody can experience its magic," he says.
"It's absolutely important for all people to have it in their life, and it's fundamental if we want to live in a better and less violent society."