Brazil senator Torres expelled over corruption claims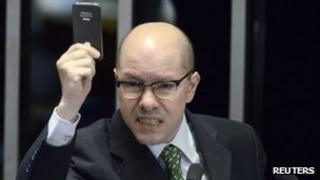 Brazilian Senator Demostenes Torres has been expelled from the Senate over alleged links with a gambling ring.
Mr Torres, who is an independent, is only the second senator to be removed from his post by his fellow colleagues in the Senate's 188-year history.
Police say Mr Torres helped a detained gambling magnate obtain favours for his companies in exchange for money.
Mr Torres has denied any wrongdoing, and says he is being made a scapegoat for the corruption scandal.
Mr Torres' name emerged in February as part of a police investigation into businessman Carlos Augusto Ramos, better known as Carlinhos Cachoeira.
'Resounding evidence'
Police said tapped phone conversations suggested Mr Torres used his office to help Mr Ramos obtain favours for his companies, such as official permits and government contracts.
Mr Ramos was arrested in February on suspicion of money laundering and running an illegal gambling ring, charges he denies.
Senator Humberto Costa, who led the Senate ethics hearing into Mr Torres' behaviour, said the evidence against him was "resounding".
He said police had recorded 653 telephone conversations and 40 meetings between Mr Ramos and Mr Torres over the past year.
Prosecutors say Mr Torres received $1.5m (£983,000) in payment from Mr Ramos' companies. They have asked Brazil's federal Supreme Court to open an investigation into the senator's action.
Mr Torres has denied receiving money from Mr Ramos' companies.
He says the extracts of the tape-recordings released by the police have been edited to make him look bad.
A congressional investigative committee has also named three federal deputies and two governors as persons of interest in their probe into Mr Ramos' political connections.
Brazil has been rocked over the past year by corruption scandals involving senior politicians.
Six ministers have departed amid scandals over alleged corruption.